Chipotle Chicken Recipe Air Fryer
If you're a fan of Chipotle's mouthwatering chicken bowls, you're in for a treat. We're about to show you how to recreate that crispy, juicy goodness in your very own kitchen using an air fryer. In this article, we'll dive into the world of air fryer chipotle chicken thighs, a copycat recipe that's sure to satisfy your cravings. So, whether you're a seasoned home cook or just starting your culinary journey, read on to discover how to make this delectable dish.
What is an Air Fryer, and Why Should You Use It?
Before we delve into the specifics of our chipotle chicken recipe, let's briefly explore the world of air fryers. An air fryer is a kitchen appliance that uses hot air circulation to cook food, creating that crispy exterior we all love without the need for excessive oil. It's a healthier alternative to traditional frying methods and perfect for achieving the desired texture in dishes like our chipotle chicken.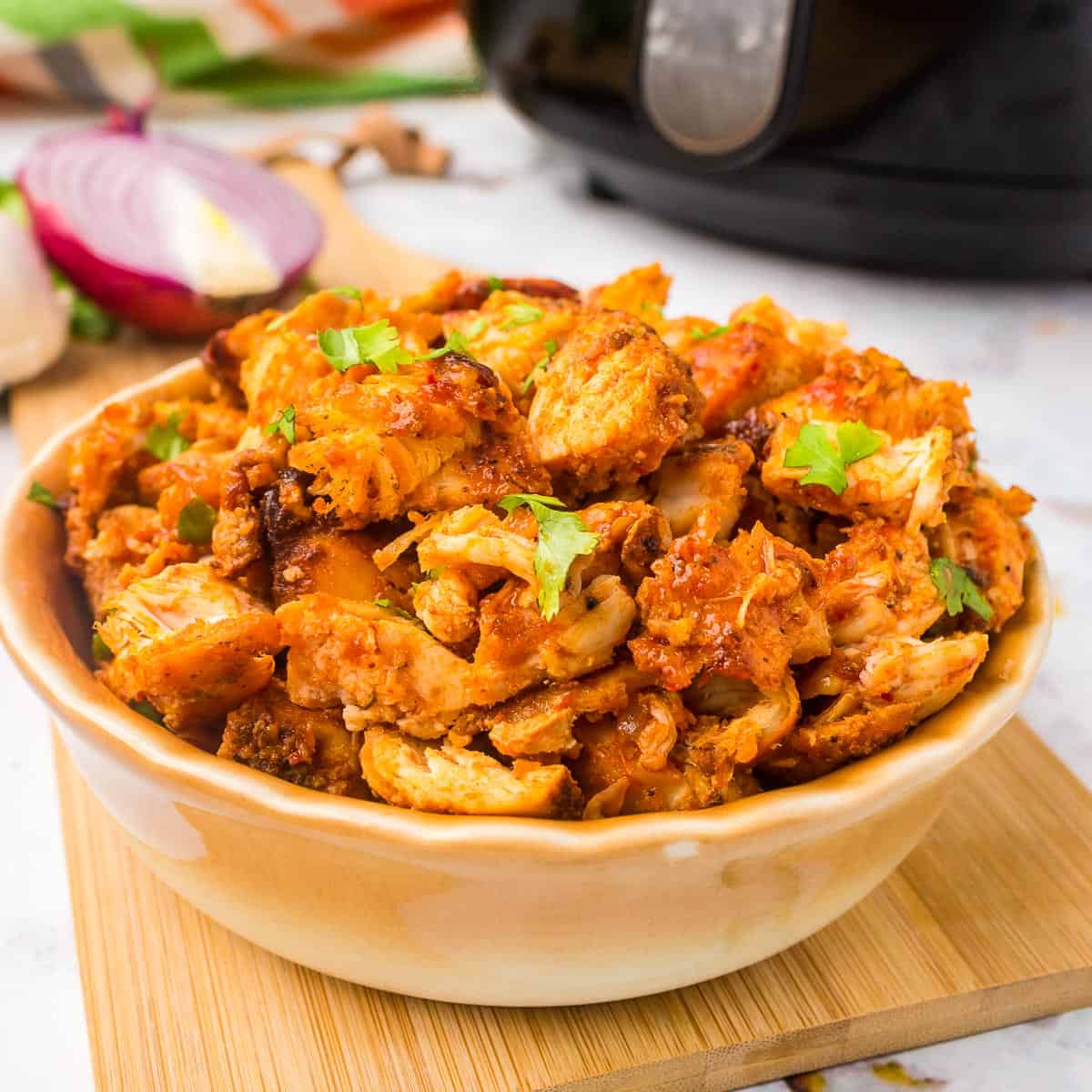 The Essence of Chipotle: Understanding Chipotle Chicken
To create an authentic copycat recipe, it's essential to grasp what makes Chipotle's chicken so irresistible. Chipotle chicken is known for its smoky, spicy flavor, thanks to chipotle peppers and adobo sauce. These ingredients infuse the chicken with a unique and bold taste that sets it apart.
Cooking Tips and Tricks for the Best Air Fryer Experience
– Preheat your air fryer to ensure even cooking and maximum crispiness.
– Spray the air fryer basket with a little oil to prevent sticking.
– Flip the chicken halfway through cooking for uniform results.
– Use an instant-read thermometer to check the chicken's internal temperature for doneness.
A Healthier Option: Air Fryer vs. Traditional Frying
One of the most significant advantages of using an air fryer is its health benefits. Traditional deep frying can result in oil-soaked dishes, while the air fryer uses minimal oil, making your meals significantly healthier. Plus, you'll still achieve that crave-worthy crispy texture.
Chipotle Chicken Recipe Air Fryer

Ingredients
4 boneless, skinless chicken breasts


2 tablespoons olive oil


2 teaspoons chipotle chili powder


1 teaspoon garlic powder


1 teaspoon smoked paprika


1 teaspoon salt


1/2 teaspoon black pepper

Directions
Start by patting the chicken breasts dry with paper towels. This helps the spices adhere better to the chicken.

In a small bowl, mix together the chipotle chili powder, garlic powder, smoked paprika, salt, and black pepper. Rub this spice mixture evenly over the chicken breasts, making sure they're well coated.

Preheat your air fryer to 375°F (190°C). This usually takes about 3-5 minutes.

Lightly brush the chicken breasts with olive oil on both sides. This will help achieve a crispy exterior when cooked in the air fryer.

Place the seasoned chicken breasts in the air fryer basket in a single layer, ensuring they're not overcrowded. Cook for approximately 20-25 minutes, flipping the chicken halfway through the cooking time. The chicken is done when it reaches an internal temperature of 165°F (74°C) and has a golden-brown crust.

Once cooked, let the chicken rest for a few minutes before slicing it. Serve hot and enjoy your Chipotle Chicken with your favorite sides.

Nutritional Content
Here's the estimated nutritional content per serving (one chicken breast):
– Calories: 260
– Protein: 32g
– Carbohydrates: 2g
– Fat: 13g
– Saturated Fat: 2g
– Cholesterol: 96mg
– Sodium: 740mg
– Fiber: 1g
– Sugar: 0g
Frequently Asked Questions (FAQs)
1. Can I use bone-in chicken for this recipe?
– While boneless, skinless chicken breasts are recommended for this recipe due to their quick cooking time in the air fryer, you can use bone-in chicken if you adjust the cooking time accordingly. Bone-in chicken may take longer to cook thoroughly.
2. What can I serve with Chipotle Chicken?
– This Chipotle Chicken pairs well with a variety of sides, such as rice, roasted vegetables, a fresh salad, or even in tacos or burritos.
3. Is the chipotle chili powder very spicy?
– Chipotle chili powder has a smoky and mildly spicy flavor. If you're sensitive to spice, you can reduce the amount of chipotle chili powder in the recipe or substitute it with regular chili powder for a milder flavor.
4. Can I marinate the chicken in advance?
– Yes, you can marinate the chicken in the spice mixture in advance for added flavor. Refrigerate the chicken in an airtight container for up to 24 hours before cooking.
5. What other seasoning options can I use?
– If you don't have chipotle chili powder, you can experiment with other seasonings like cumin, oregano, or even a store-bought taco seasoning mix to create different flavor profiles for your Chipotle Chicken.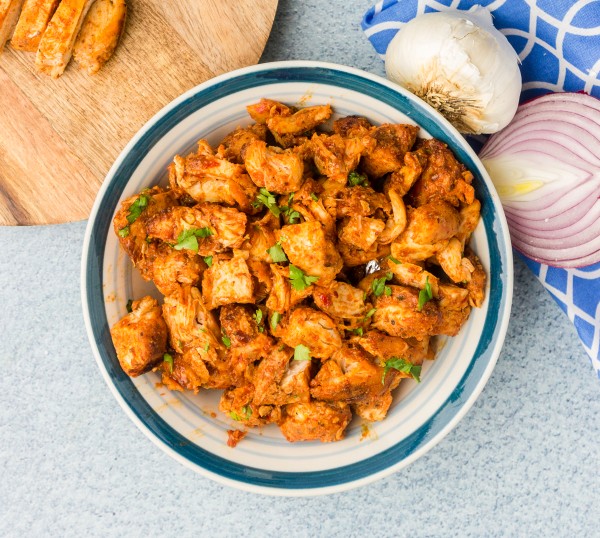 Can I Use the Same Cooking Method for Chipotle Chicken as for Butter Chicken in an Air Fryer?
Yes, it is possible to use the same cooking method for both chipotle chicken and butter chicken in an air fryer. With an air fryer butter chicken recipe, you can achieve similar results by marinating the chicken, adding the desired spices, and air frying it to perfection. This versatile appliance allows you to enjoy different flavors with the same convenience.
Final Thoughts
In this comprehensive guide, we've explored the delightful world of air fryer chipotle chicken, from gathering your ingredients to achieving the perfect crispiness. Whether you're a fan of Chipotle's flavors or simply looking to impress your taste buds and guests with a delicious homemade meal, this copycat recipe is sure to hit the mark.
So, preheat your air fryer, marinate the chicken, and get ready to savor the mouthwatering taste of crispy and juicy chipotle chicken. With our detailed instructions and expert tips, you'll be well on your way to becoming a master of this delightful dish. Enjoy your culinary