Hawaiian Chicken Curry Recipe
Are you ready to embark on a culinary journey to the tropical paradise of Hawaii without leaving the comfort of your home? If you're a fan of exotic flavors and crave a taste of the islands, you're in for a treat. In this comprehensive guide, we'll delve into the world of Hawaiian Pineapple Chicken Curry, a mouthwatering fusion of flavors that combines the richness of curry with the sweetness of pineapple. Whether you're a seasoned chef or a beginner in the kitchen, this article is worth reading to discover how to create a delectable Hawaiian-inspired meal that will tantalize your taste buds.
What Is Hawaiian Pineapple Chicken Curry?
Hawaiian Pineapple Chicken Curry is a delightful fusion of flavors that brings together the warmth of curry spices and the tropical sweetness of pineapple. This dish perfectly embodies the spirit of Hawaii with its bold and savory profile, complemented by the natural sweetness of pineapple. It's a harmony of ingredients that dance on your palate, creating a memorable culinary experience.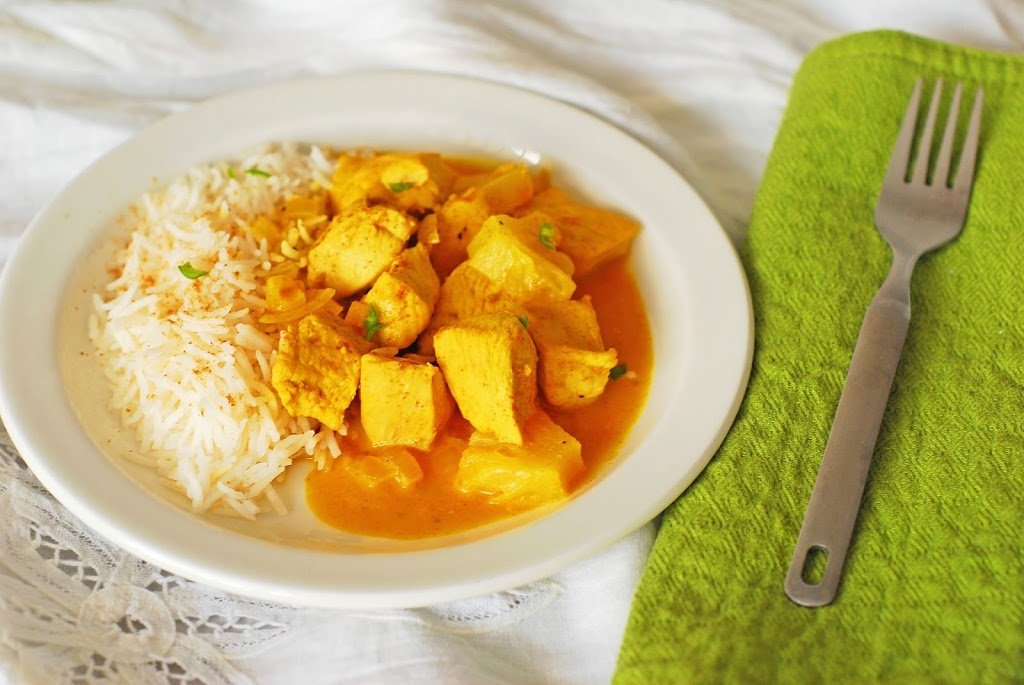 Instant Pot and Slow Cooker Options
For those busy days when you want a hassle-free meal, you can adapt this recipe for both the Instant Pot and slow cooker. The Instant Pot method is perfect for when you need dinner on the table in a hurry, while the slow cooker method lets you come home to a house filled with the aroma of your delicious curry.
Is Hawaiian Pineapple Chicken Curry Spicy?
The spiciness of Hawaiian Pineapple Chicken Curry depends on your preference. You can control the heat by adjusting the amount of curry paste and red curry paste you add to the dish. If you enjoy a mild curry, go easy on the spicy ingredients; if you're a heat enthusiast, crank it up to your liking.
Hawaiian Chicken Curry Recipe
Ingredients
2 boneless, skinless chicken breasts, cut into bite-sized pieces.


1 tablespoon vegetable oil.


1 small onion, finely chopped.


1 red bell pepper, diced.

1 can (13.5 oz) of coconut milk.


2 tablespoons curry powder.


1 tablespoon soy sauce.


1 tablespoon honey.


1 can (8 oz) of pineapple chunks, drained.


Salt and pepper to taste.


Cooked rice for serving.

Directions
Heat the vegetable oil in a large skillet or wok over medium-high heat.

Add the chopped onion and diced red bell pepper to the skillet. Sauté for about 3-4 minutes until they become tender and fragrant. Add the chicken pieces to the skillet and cook until they are no longer pink in the center, approximately 5-6 minutes.

Sprinkle the curry powder over the chicken and vegetables, stirring to coat them evenly with the spices. Pour in the coconut milk, soy sauce, and honey. Stir well to combine all the ingredients.

Reduce the heat to medium-low and let the mixture simmer for 10-12 minutes, allowing the flavors to meld together and the sauce to thicken.

Add the drained pineapple chunks to the skillet and cook for an additional 2-3 minutes until they are heated through.

Season with salt and pepper according to your taste. Serve your Hawaiian Chicken Curry over cooked rice, garnishing with fresh cilantro or chopped green onions if desired.

Nutritional Content:
Here's a rough estimate of the nutritional content for one serving of Hawaiian Chicken Curry (without rice):
Calories: 340 kcal
Protein: 20g
Carbohydrates: 14g
Sugars: 8g
Dietary Fiber: 2g
Fat: 23g
Cholesterol: 40mg
Saturated Fat: 17g
Sodium: 410mg
Potassium: 470mg
Vitamin A: 30% DV
Vitamin C: 60% DV
Calcium: 4% DV
Iron: 15% DV
Frequently Asked Questions (FAQs):
1. Can I use chicken thighs instead of chicken breasts?
Yes, you can definitely use chicken thighs if you prefer. They have slightly more fat, which can add richness to the dish.
2. Is there a substitute for coconut milk?
If you're not a fan of coconut milk, you can use heavy cream or plain yogurt for a different flavor profile. Keep in mind that this will alter the taste of the dish.
3. Can I make this dish vegetarian?
Absolutely! You can substitute chicken with tofu or a mix of your favorite vegetables like broccoli, bell peppers, and carrots for a vegetarian version of Hawaiian Curry.
4. How can I make it spicier?
To add some heat, you can include red pepper flakes, chopped jalapeños, or a dash of hot sauce to the curry. Adjust the spice level according to your preference.
5. Can I prepare this dish in advance?
Yes, you can make the curry in advance and store it in an airtight container in the refrigerator for up to 2-3 days. Reheat it on the stovetop or in the microwave before serving.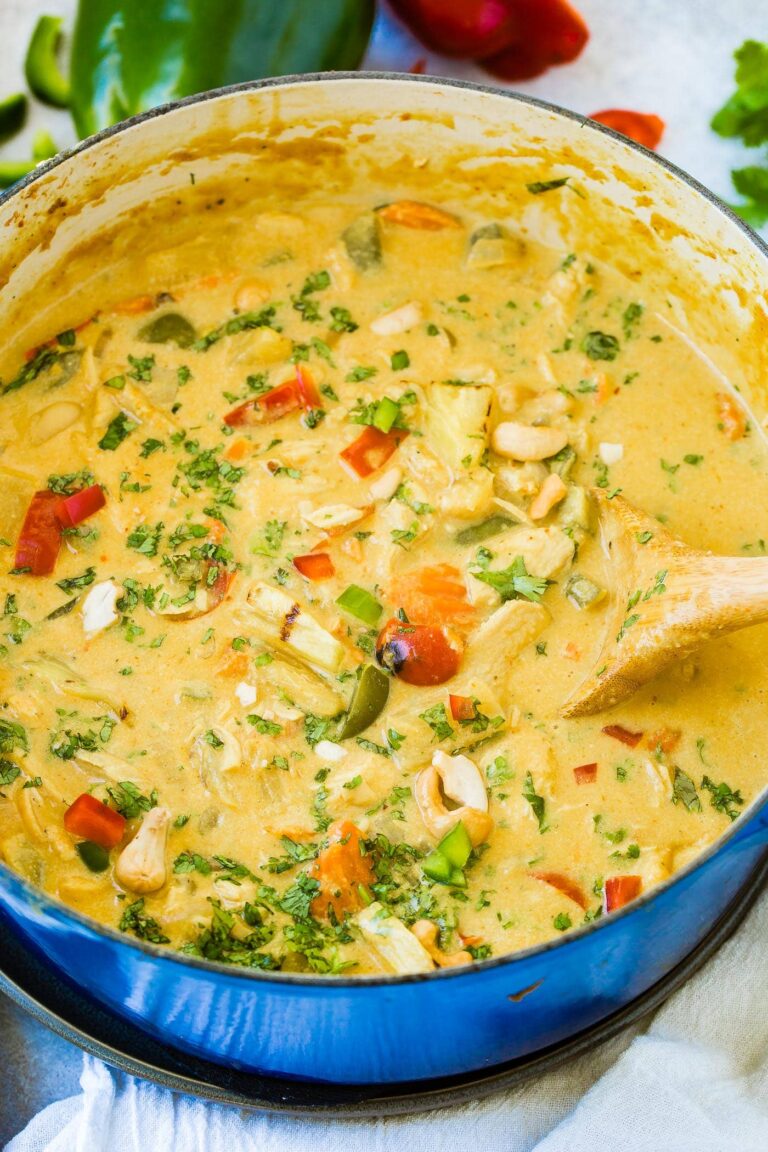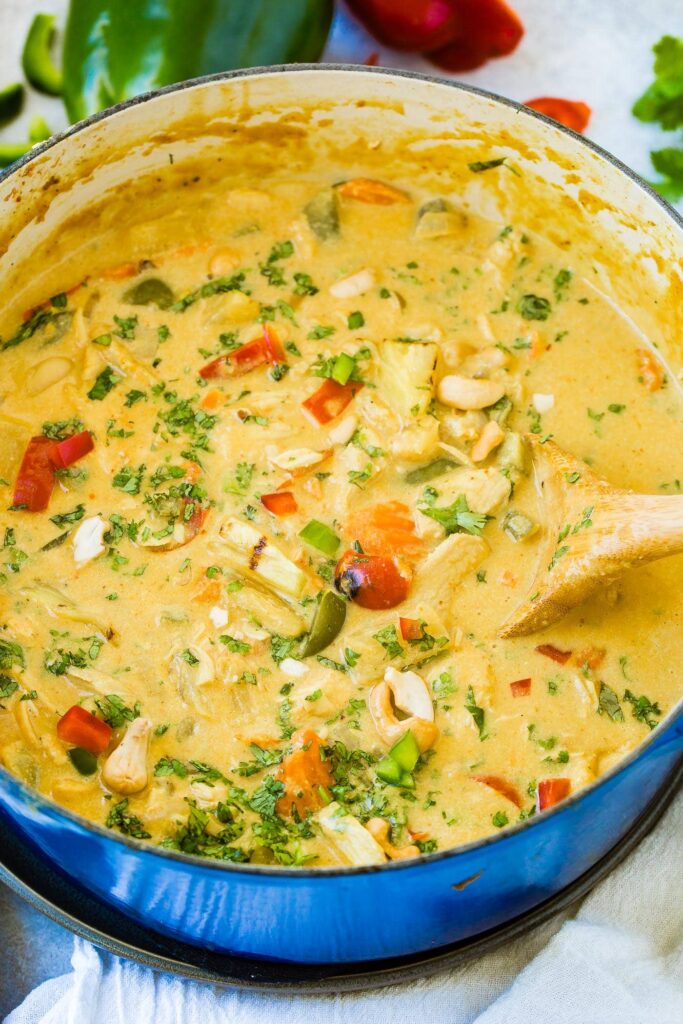 Can I Use Shredded Chicken in a Hawaiian Chicken Curry Recipe?
Yes, you can certainly use shredded chicken in a Hawaiian chicken curry recipe. Shredded chicken recipes offer a versatile option, providing a succulent and tender texture to the curry. The juicy chicken blends harmoniously with the distinctive flavors of the Hawaiian curry, creating a mouthwatering dish that is sure to impress your taste buds.
Conclusion
Hawaiian Pineapple Chicken Curry is not just a meal; it's a culinary journey to the lush and vibrant islands of Hawaii. With the perfect blend of curry spices, creamy coconut, and sweet pineapple, this dish captures the essence of Hawaiian cuisine. Whether you're looking for a quick and easy dinner or want to impress your guests with the flavors of Hawaii, give this recipe a try. It's sure to become a favorite in your household, and you'll love how quick and simple it is to make. So, gather your ingredients, put on your apron, and embark on a flavorful adventure with this mouthwatering Hawaiian Pineapple Chicken Curry. Taste the aloha spirit in every bite!