Baja Chicken Tacos Cheesecake Factory Recipe
If you're a fan of delicious, mouthwatering tacos, then you're in for a treat! In this comprehensive guide, we're diving into the world of Baja Chicken Tacos, with a special focus on a Cheesecake Factory-inspired copycat recipe. Whether you're a seasoned chef or a novice in the kitchen, this article is worth reading for anyone who wants to create a flavorful and satisfying taco experience. Get ready to tantalize your taste buds with the perfect blend of Baja flavors right at home.
What are Baja Chicken Tacos?
Let's start at the beginning. Baja Chicken Tacos are a mouthwatering Mexican dish that combines juicy, marinated chicken with a medley of fresh, vibrant ingredients, all wrapped in warm tortillas. This tantalizing culinary creation originated in the Baja California region of Mexico, known for its flavorful and diverse cuisine. Baja tacos are famous for their bold and zesty flavors, making them a favorite among taco enthusiasts.
The Origin of Baja Tacos: A Taco Tale
To truly appreciate Baja Chicken Tacos, it's essential to understand their roots. These tacos trace their origins to the Baja California peninsula, where fresh seafood and bold flavors reign supreme. Originally, Baja tacos featured fish, particularly white fish like cod or snapper. Over time, the concept evolved to include other proteins like chicken, giving birth to the beloved Baja Chicken Tacos we know today.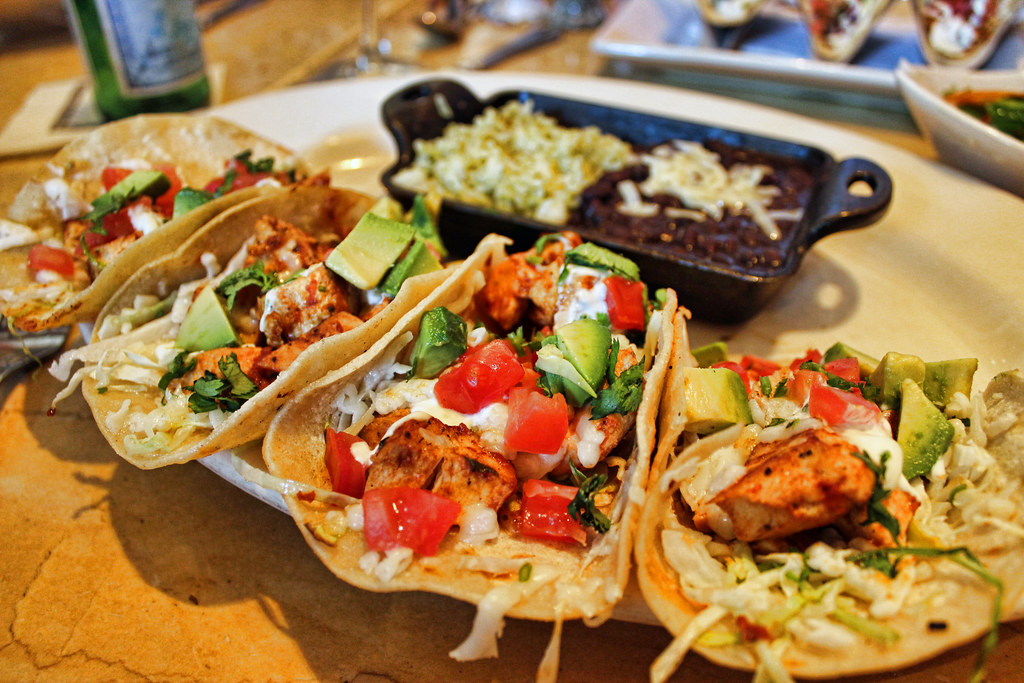 Exploring Baja Taco Variations
While our focus has been on Baja Chicken Tacos, it's worth noting that Baja-style tacos can be adapted to suit various tastes. Consider these tantalizing variations:
– Baja Fish Tacos: Swap out the chicken for white fish, just like the original Baja tacos.
– Shrimp Tacos: For seafood lovers, grilled shrimp can be the star of your Baja taco night.
– Vegetarian Baja Tacos: Use grilled vegetables or even roasted corn for a satisfying meatless option.
Baja Chicken Tacos vs. Taco Bell: The Ultimate Showdown
As we explore the world of tacos, it's only fair to address the classic fast-food favorite: Taco Bell. While both Baja Chicken Tacos and Taco Bell's offerings have their merits, there's a world of difference in terms of flavor and quality. Discover why making your own Baja Chicken Tacos at home is the superior choice.
Baja Chicken Tacos Cheesecake Factory Recipe

Ingredients
1 pound boneless, skinless chicken breasts or thighs


1 packet of taco seasoning mix


2 tablespoons olive oil


1 red bell pepper, thinly sliced


1 red onion, thinly sliced


1 cup shredded lettuce


1 cup diced tomatoes


1 cup shredded cheddar cheese


1/2 cup sour cream


8 small flour tortillas


1 lime, cut into wedges (for garnish)


Fresh cilantro leaves (optional, for garnish)

Directions
Start by seasoning the chicken with the taco seasoning mix. Heat one tablespoon of olive oil in a skillet over medium-high heat. Add the seasoned chicken and cook until it's no longer pink in the center, approximately 5-7 minutes per side. Remove the chicken from the skillet and let it rest for a few minutes before slicing it into thin strips.

In the same skillet, add the remaining tablespoon of olive oil. Toss in the sliced red bell pepper and onion. Cook until they become tender and slightly caramelized, about 5-7 minutes. Remove from heat.

While the vegetables are cooking, prepare your taco toppings. Dice the tomatoes, shred the lettuce, and grate the cheddar cheese. Place these items in separate bowls for easy assembly.

Warm the flour tortillas in a dry skillet over low heat for about 15 seconds on each side, or microwave them for 20-30 seconds. This step ensures that your tacos will be pliable and easy to fold.

Lay out the warm tortillas on a clean surface. Place a few slices of cooked chicken in the center of each tortilla. Add a spoonful of sauteed vegetables, followed by the shredded lettuce, diced tomatoes, and cheddar cheese. Top it off with a dollop of sour cream.

Garnish your Baja chicken tacos with fresh cilantro leaves (if desired) and a lime wedge for squeezing. Serve immediately while warm.

Nutritional Content (per serving)
– Calories: Approximately 400
– Protein: 24 grams
– Carbohydrates: 35 grams
– Dietary Fiber: 4 grams
– Sugars: 4 grams
– Fat: 18 grams
– Saturated Fat: 6 grams
– Cholesterol: 70 milligrams
– Sodium: 850 milligrams
FAQs
1. Can I use pre-marinated chicken for this recipe?
While you can use pre-marinated chicken for convenience, it's recommended to use plain chicken breasts or thighs and season them with taco seasoning. This allows you to control the flavor and adjust it to your preference.
2. What can I substitute for sour cream if I'm lactose intolerant?
If you're lactose intolerant, you can use lactose-free sour cream or opt for dairy-free alternatives like almond or coconut-based sour cream.
3. Can I make this recipe vegetarian or vegan?
Absolutely! You can substitute the chicken with tofu, tempeh, or your favorite plant-based protein. Replace cheddar cheese with vegan cheese, and use dairy-free sour cream to make it vegan-friendly.
4. Are there any gluten-free options for this recipe?
To make this recipe gluten-free, simply use gluten-free tortillas. Ensure that your taco seasoning mix is also gluten-free, as some blends may contain gluten.
5. How can I make these tacos spicier?
If you prefer a spicier kick, you can add sliced jalapeños or a dash of hot sauce to your tacos. You can also increase the amount of taco seasoning mix used on the chicken.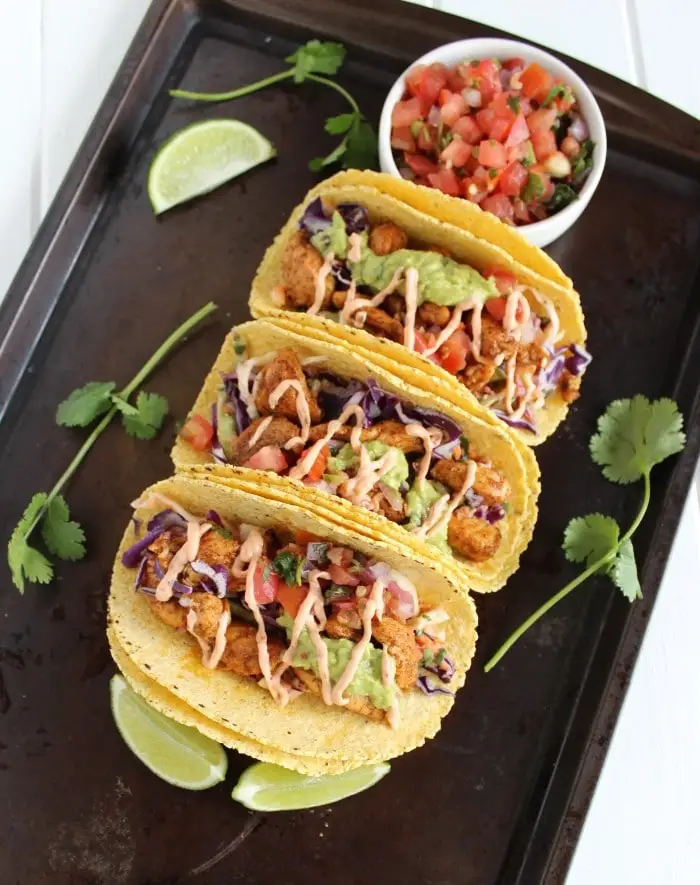 Can I Use the Carlos O Kellys Chicken Picado Recipe to Make Baja Chicken Tacos?
The famous Carlos O Kelly's restaurant holds an exquisite and delicious chicken picado recipe. Now the question arises, can this recipe be adapted to make Baja chicken tacos? With a touch of creativity, expertise, and the mouthwatering Carlos O Kelly's chicken picado recipe, you can undoubtedly create irresistibly flavorful Baja chicken tacos.
Conclusion: Your Baja Taco Adventure Begins!
In conclusion, Baja Chicken Tacos are a culinary delight that captures the essence of Mexican cuisine with a unique twist. Whether you're drawn to the Cheesecake Factory's version or eager to explore your own variations, the journey to Baja taco bliss is both delicious and rewarding.
So, gather your ingredients, fire up the grill, and embark on your Baja taco adventure. With the guidance provided here, you'll be well on your way to creating a meal that feels like a celebration, whether it's for a special occasion or a casual night of the week.
Remember, the key to the perfect Baja Chicken Tacos is marinating the chicken to perfection, assembling with care, and savoring every flavorful bite. Enjoy your taco-making experience, and relish the joy of crafting a delicious meal that feels like a fiesta on your plate. Happy taco-making!