Buffalo Chicken Dip Recipe No Ranch
Looking for a buffalo chicken dip recipe that doesn't require ranch? Well, look no further!
This creamy and cheesy goodness is the perfect blend of spices and flavors, giving you a twist on a classic favorite.
No ranch? No problem! You can still achieve game day perfection with this mouthwatering dip.
Get ready to indulge in a snack that will leave you craving for more.
Are you ready to experience the ultimate buffalo chicken dip without the ranch?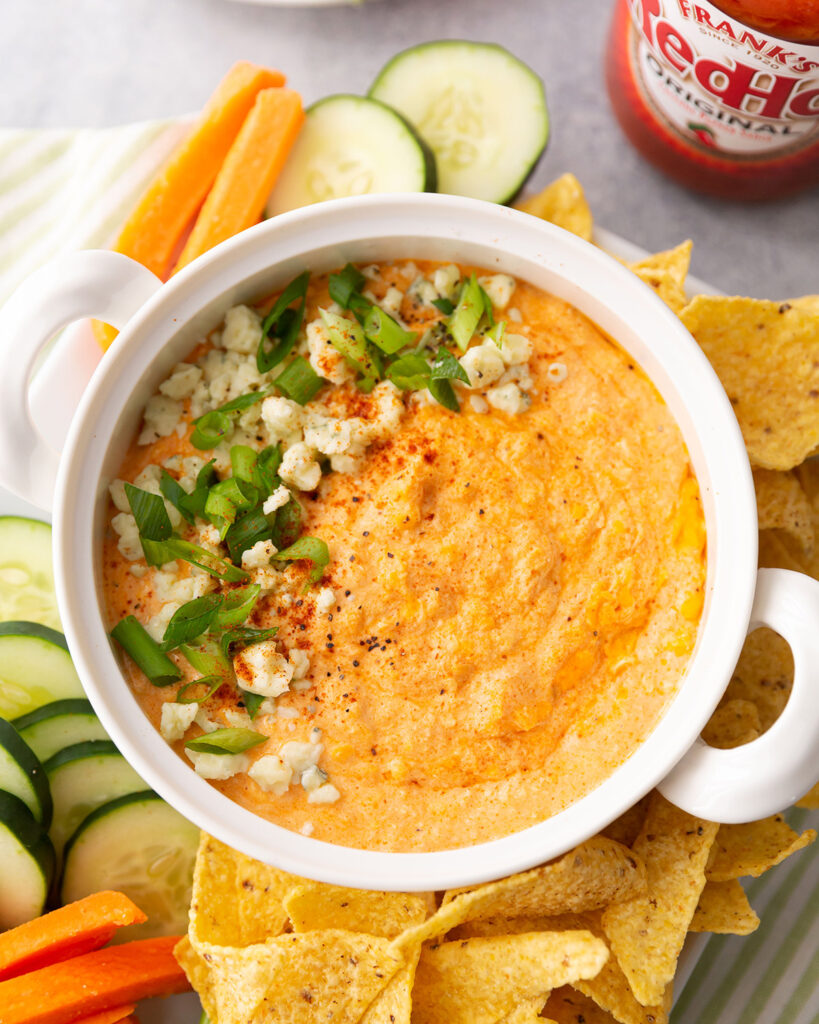 Key Takeaways
The buffalo chicken dip recipe can be enhanced with different spices and seasonings to add variety and creativity.
Greek yogurt can be used as a healthier alternative to sour cream or mayonnaise in the dip.
Adding diced jalapenos or hot sauce can give the dip a spicy twist.
Alternative seasonings like crumbled blue cheese can be used instead of ranch to create a creamy and sharp taste.
Buffalo Chicken Dip Recipe No Ranch
Course: Appetizer
Cuisine: American
Difficulty: easy
Get ready for a bold explosion of flavors with our Zesty Buffalo Chicken Dip! This dip is the perfect game day or party appetizer that'll have your guests begging for the recipe. The best part? There's no ranch dressing involved. Let's dive into this mouthwatering delight.
Ingredients
2 cups shredded cooked chicken

8 oz cream cheese, softened

1/2 cup hot sauce (adjust to taste)

1/2 cup sour cream

1/2 cup mayonnaise

1 cup shredded cheddar cheese

1/2 cup crumbled blue cheese

1/4 cup chopped green onions

1/4 cup diced celery

Salt and pepper to taste

Tortilla chips or celery sticks for dipping
Directions
Preheat your oven to 350°F (175°C).
In a mixing bowl, combine cream cheese, hot sauce, sour cream, mayonnaise, shredded cheddar cheese, and crumbled blue cheese. Mix until smooth.
Stir in the shredded chicken, diced celery, and chopped green onions.
Season with salt and pepper to taste.
Transfer the mixture to a baking dish and bake for 25-30 minutes until bubbly and golden brown.
Serve hot with tortilla chips or celery sticks.
The Perfect Blend of Spices
You should start by adding a pinch of salt and a dash of pepper to achieve the perfect blend of spices in your buffalo chicken dip. The combination of these two simple yet powerful seasonings will enhance the flavors of the dish, giving it a savory and slightly tangy taste.
As you mix them into the creamy base of the dip, you'll notice how the salt brings out the natural flavors of the chicken and the pepper adds a subtle kick of heat. This flavorful seasoning combination is what sets this buffalo chicken dip apart from others.
It's all about spicing up traditional recipes and taking them to the next level. So, don't be afraid to experiment with different spices and seasonings to create your own unique twist on this classic dish. After all, cooking is all about freedom and creativity.
Creamy and Cheesy Goodness
How can you resist the creamy and cheesy goodness of this buffalo chicken dip? Made with tender chunks of chicken, tangy hot sauce, and a combination of creamy cheeses, this dip is a flavor explosion that will leave you craving for more.
The secret lies in the perfect balance of flavors and the irresistible texture that's achieved by combining melted cheddar and cream cheese with the moist chicken. As you take your first bite, the flavorful heat from the hot sauce dances on your taste buds, while the creamy cheeses coat your mouth with their velvety richness. Each mouthful is a heavenly experience, with the bold flavors and smooth texture coming together to create a dip that's simply irresistible.
Whether you're serving it at a party or enjoying it on game day, this buffalo chicken dip is sure to be a crowd-pleaser. So go ahead, grab a tortilla chip or a crispy celery stick, and indulge in the creamy and cheesy goodness that awaits you.
A Twist on a Classic Favorite
Try this delicious twist on a classic favorite by adding a kick of spice to your buffalo chicken dip recipe.
Instead of the usual ingredients, why not get creative and try some unique ingredient substitutions? For a healthier alternative, you can use Greek yogurt instead of sour cream or mayonnaise. This not only cuts down on calories and fat but also adds a tangy and creamy texture to your dip.
To amp up the flavor, you can add some diced jalapenos or hot sauce for a spicy twist. Serve it with celery sticks or carrot chips for a refreshing crunch.
This revamped buffalo chicken dip is sure to be a hit at your next gathering, and your guests will never know that it's a healthier version of the classic!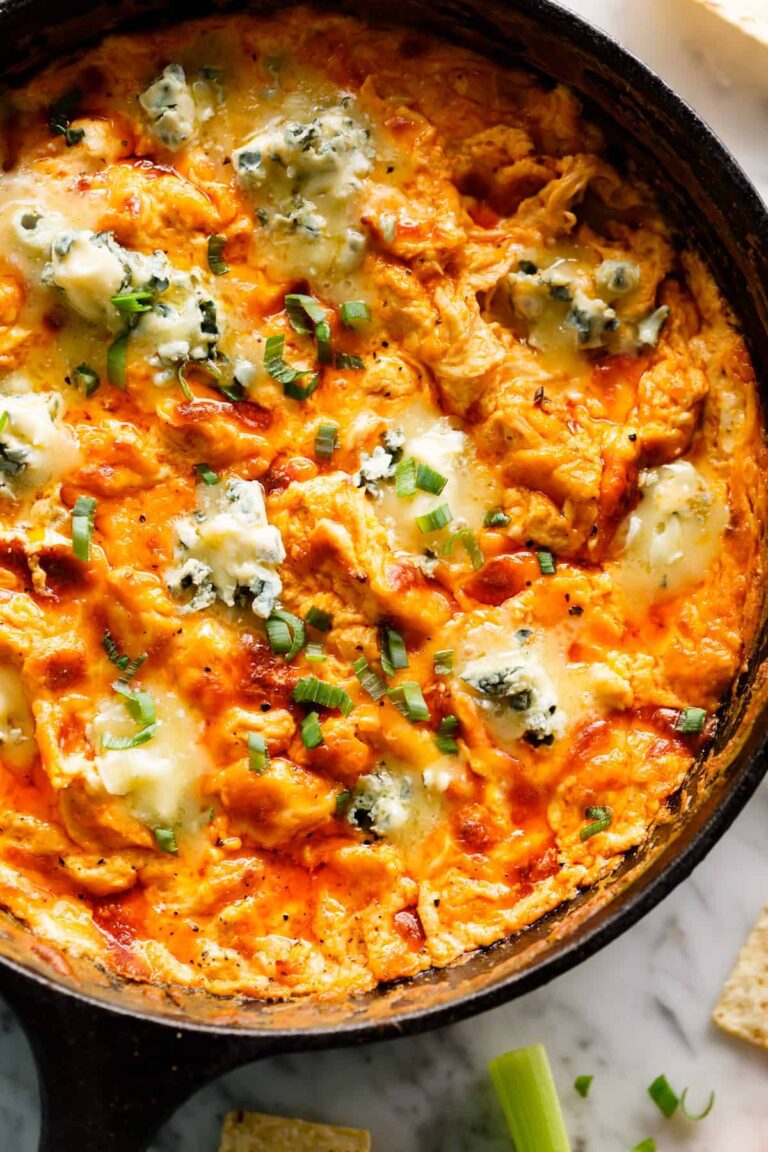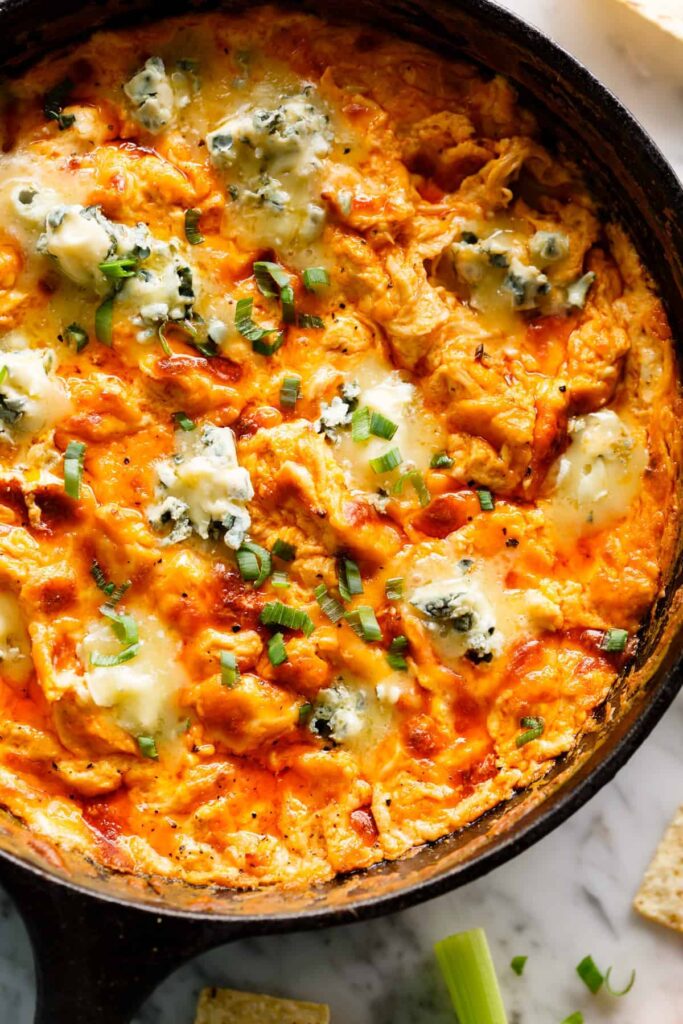 No Ranch, No Problem
Don't worry about not having ranch dressing on hand, because there are other delicious options for your buffalo chicken dip. When it comes to alternative seasonings, you have plenty of easy substitutions that will still give your dip that irresistible tangy flavor.
Here are a few ideas to try:
Blue Cheese: Swap out the ranch for crumbled blue cheese. Its creamy texture and sharp taste will complement the spicy kick of the buffalo sauce perfectly.

Greek Yogurt: For a lighter twist, use Greek yogurt instead of ranch. Its tanginess will add a refreshing element to the dip while keeping it creamy and smooth.
With these alternative seasonings, you won't even miss the ranch. So go ahead and whip up a batch of buffalo chicken dip without hesitation. Your taste buds will thank you!
Now, let's move on to the next section and discover how this dip becomes game day perfection.
Game Day Perfection
For game day perfection, make sure you have all the necessary ingredients and follow these simple steps to create the ultimate buffalo chicken dip.
This mouthwatering alternative dip is guaranteed to be a hit with your friends and family.
Start by gathering boneless, skinless chicken breasts, tangy hot sauce, creamy mayonnaise, zesty ranch seasoning, and shredded cheddar cheese.
Cook the chicken until it's tender and easily shredded, then mix it with the hot sauce, mayo, ranch seasoning, and half of the cheese.
Spread the mixture into a baking dish and top it with the remaining cheese. Bake until bubbly and golden brown.
Serve this easy crowd-pleasing appetizer with tortilla chips, celery sticks, or even toasted bread slices.
Get ready for the compliments to pour in as everyone indulges in this delicious dip.
Nutritional Facts:-
Calories: 270
Total Fat: 22g

Saturated Fat: 10g
Trans Fat: 0g

Cholesterol: 60mg
Sodium: 820mg
Total Carbohydrates: 3g

Dietary Fiber: 0g
Sugars: 1g

Protein: 15g
Frequently Asked Questions
Can I Substitute the Shredded Chicken With Canned Chicken for This Recipe?
Sure, you can totally substitute the shredded chicken with canned chicken for this recipe! It's a convenient alternative if you're short on time. Also, feel free to experiment with different cheese options for added flavor. Enjoy!
How Long Does the Buffalo Chicken Dip Stay Fresh in the Refrigerator?
Buffalo chicken dip will stay fresh in the refrigerator for up to 4 days when properly stored. If it starts to smell off or develop mold, it's time to toss it. Trust your nose!
Can I Use a Different Type of Cheese Instead of the Suggested Cheddar Cheese?
Yes, you can definitely use a different type of cheese instead of the suggested cheddar cheese. Cheese alternatives like mozzarella or pepper jack can add a unique twist to the flavor of the dip.
What Are Some Recommended Side Dishes to Serve With Buffalo Chicken Dip?
You can serve buffalo chicken dip with a variety of recommended side dishes. Tortilla chips are a classic choice, providing a satisfying crunch that complements the creamy, spicy dip.
Can I Make This Dip Ahead of Time and Reheat It Later?
Yes, you can definitely make this buffalo chicken dip ahead of time and reheat it later. It's a convenient option for parties or gatherings. Just store it in the fridge, then warm it up when you're ready to serve.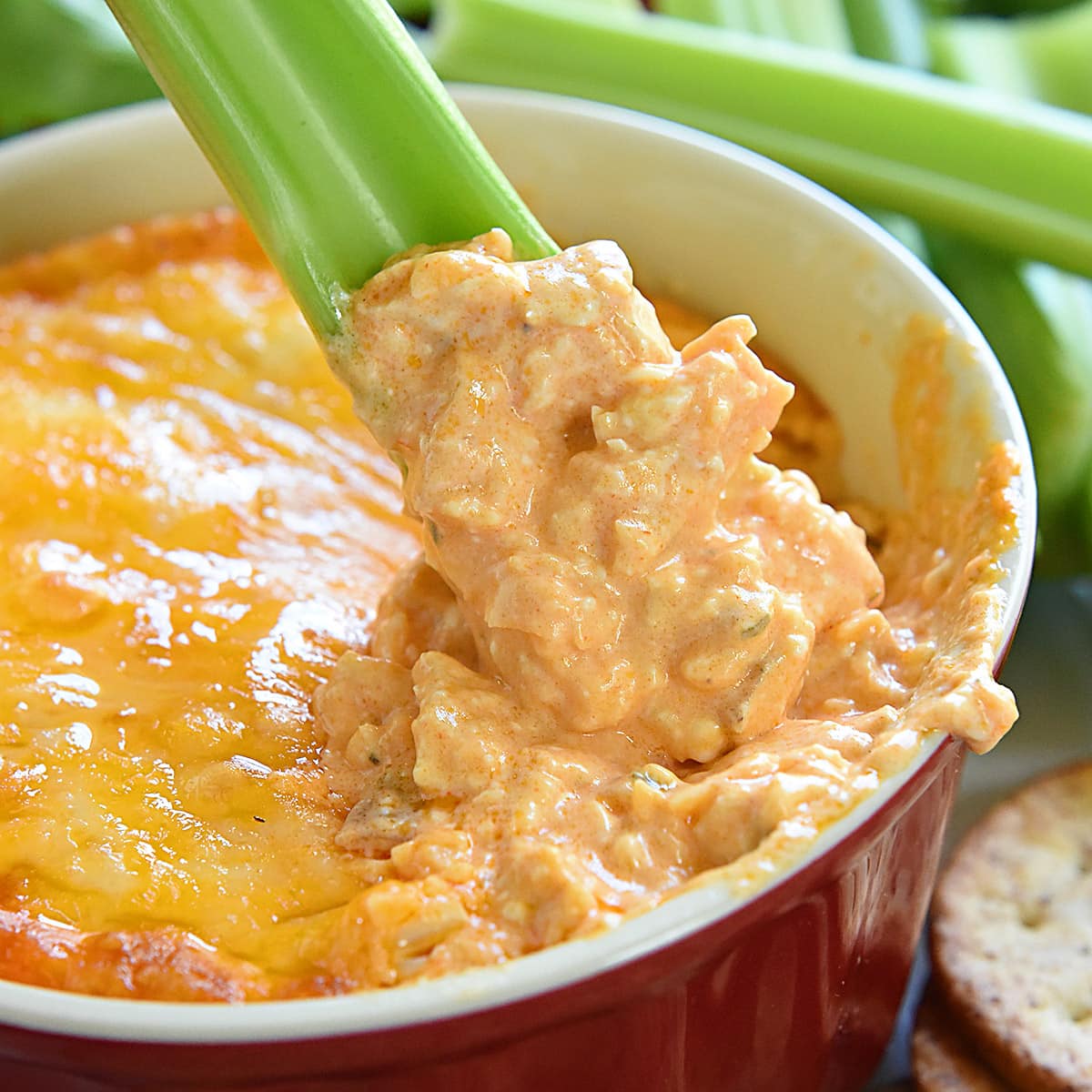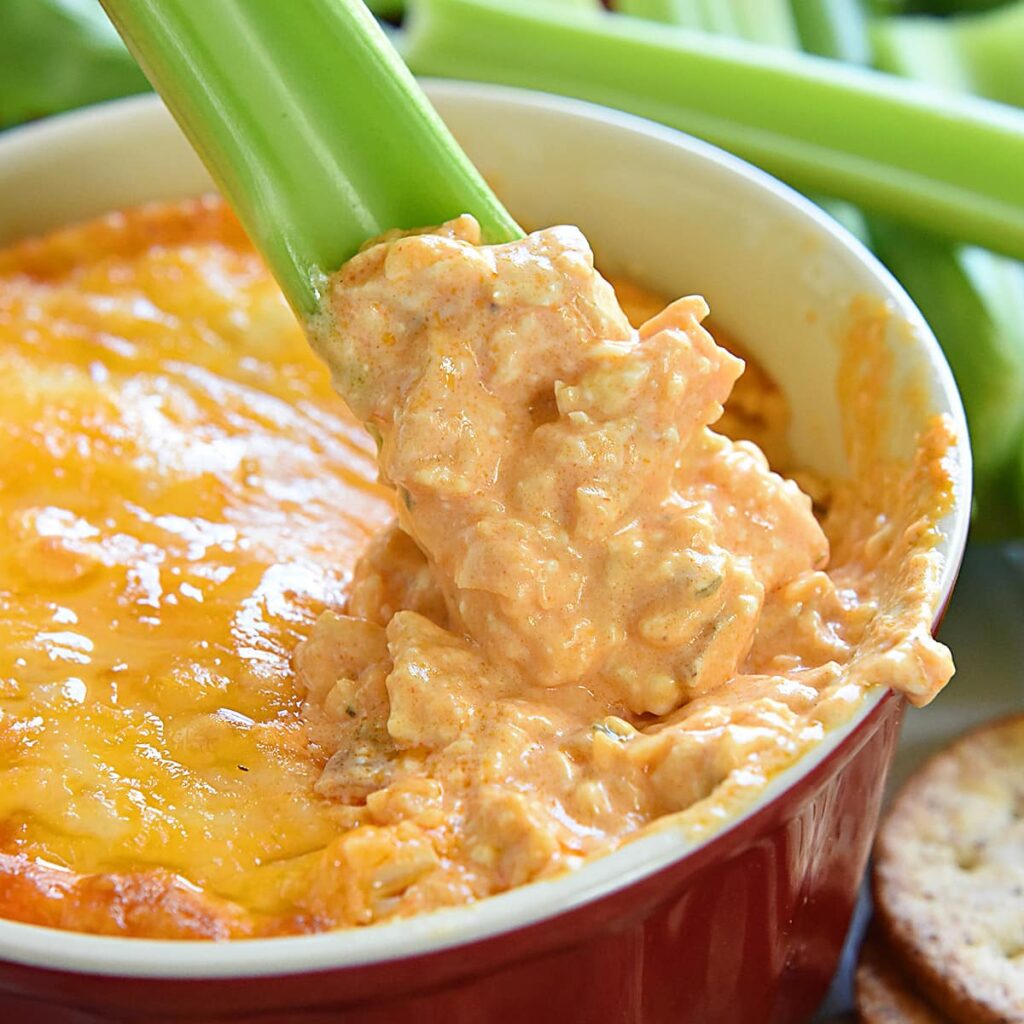 Can I Make Buffalo Chicken Dip Without Using Ranch Dressing?
Making buffalo chicken dip without using ranch dressing? No worries! Try out big whiskey's buffalo chicken dip recipe for a unique twist. This delicious recipe incorporates alternative ingredients, resulting in a tantalizing flavor that will leave you craving for more. Savor the zesty buffalo taste without compromising on your preferences.
Conclusion
In conclusion, this buffalo chicken dip recipe is a game day perfection without the need for ranch dressing. The perfect blend of spices adds a delicious kick to the creamy and cheesy goodness of the dip.
And here's an interesting statistic: Did you know that buffalo chicken dip is one of the most popular appetizers served during sporting events, with over 10 million pounds of chicken consumed annually?
So why not join the crowd and indulge in this mouthwatering dish at your next gathering?