Chicken Modiga is a mouthwatering dish that originates from the vibrant culinary scene of St. Louis, Missouri. This delectable concoction features tender chicken cutlets smothered in a rich and flavorful white wine sauce, topped with a tantalizing blend of melted Provel cheese, bread crumbs, and garlic. Its unique combination of ingredients and regional influence make Chicken Modiga a standout dish that has captivated taste buds for generations.
The Origins and Evolution
Chicken Modiga's history is closely intertwined with the Italian-American community in St. Louis. Named after its supposed creator, Victor Modiga, a chef at the once-popular restaurant Modiga's Deli, the dish gained popularity in the mid-20th century. The combination of Italian and American culinary elements reflects the fusion of cultures that characterizes St. Louis cuisine.
The Ingredients and Preparation
Chicken Modiga's success lies in its simple yet harmonious blend of ingredients. It starts with thinly pounded chicken cutlets, ensuring tenderness and even cooking. These cutlets are seasoned, lightly breaded, and pan-fried until golden brown. The crowning glory of Chicken Modiga is its luxurious white wine sauce. A medley of white wine, chicken broth, garlic, and butter is simmered to perfection, infusing the dish with rich flavor.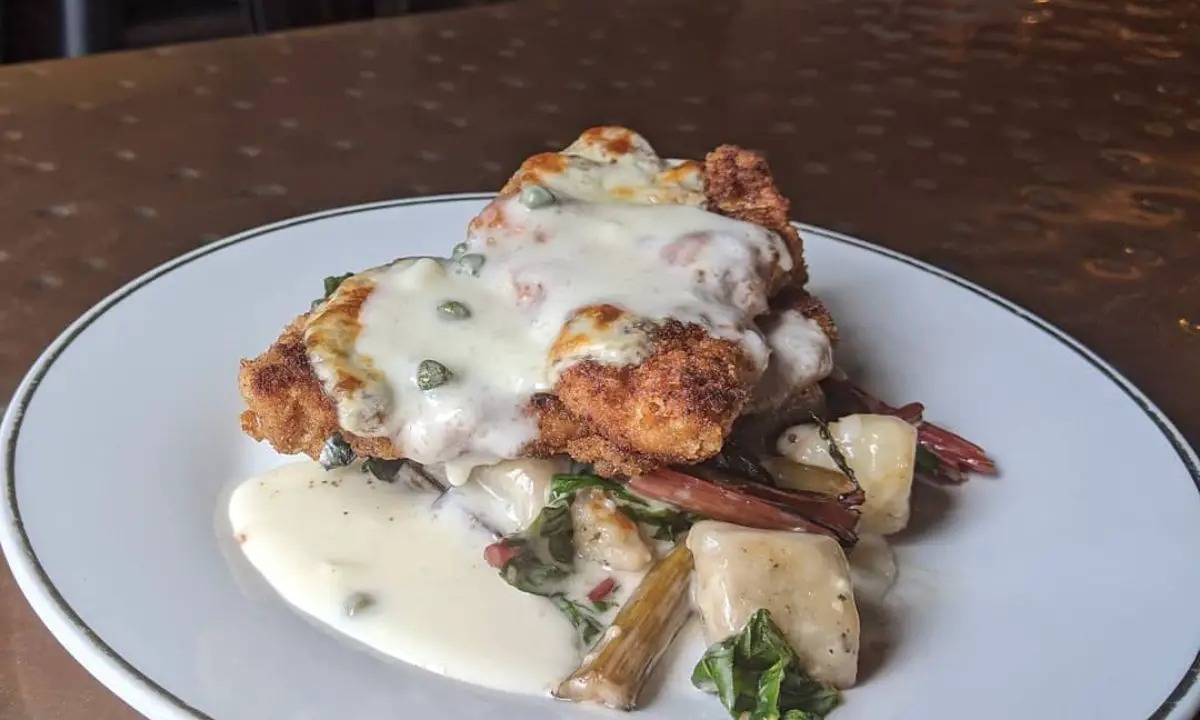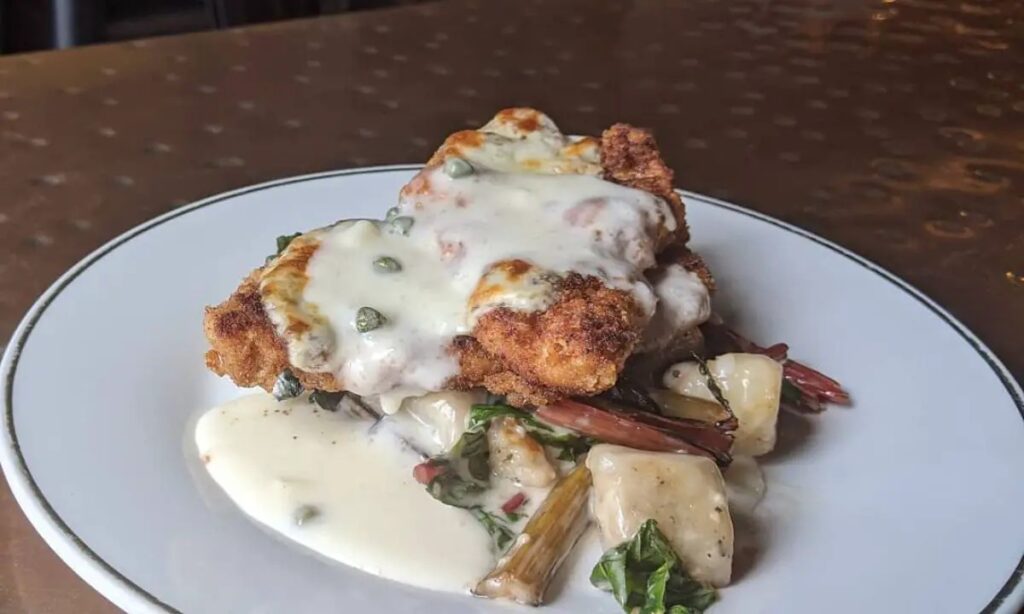 The Cheese and Bread Crumb Topping
What sets Chicken Modiga apart is its distinctive topping. Provel cheese, a uniquely St. Louis creation, is a blend of cheddar, Swiss, and provolone cheeses that melts to perfection. The cheese is generously spread over the pan-fried chicken cutlets, creating a gooey, flavorful layer. To add a delightful crunch, seasoned bread crumbs are sprinkled over the cheese, forming a savory crust when baked.
Serving and Pairing
Chicken Modiga is typically served with a side of pasta or garlic mashed potatoes, providing a satisfying contrast to the creamy and cheesy flavors of the dish. The dish's rich, savory profile pairs well with light and refreshing salads, steamed vegetables, or even a crisp white wine, enhancing the dining experience.
Chicken Modiga is a classic Italian-American dish that features breaded and pan-fried chicken cutlets topped with a white wine, lemon, and mushroom sauce. Here's a basic recipe for Chicken Modiga:
Ingredients
4 boneless, skinless chicken breasts


Salt and pepper, to taste


1 cup all-purpose flour


2 eggs, beaten


1 cup breadcrumbs


1/2 cup grated Parmesan cheese


1/4 cup vegetable oil, for frying

2 tablespoons butter


1 cup sliced mushrooms


2 cloves garlic, minced


1 cup dry white wine

Juice of 1 lemon


1 cup chicken broth


1/2 cup heavy cream


 Salt and pepper, to taste


Chopped fresh parsley, for garnish

Directions
Preheat the oven to 350°F (175°C).

Start by preparing the chicken. Place the chicken breasts between sheets of plastic wrap and pound them to an even thickness, about 1/2 inch. Season both sides with salt and pepper.
Set up a breading station. Place the flour in one shallow dish, the beaten eggs in another dish, and a mixture of breadcrumbs and grated Parmesan cheese in a third dish.

Dip each chicken breast into the flour, shaking off excess, then dip it into the beaten eggs, and finally coat it with the breadcrumb-Parmesan mixture. Press the breadcrumbs onto the chicken to adhere.

Heat the vegetable oil in a large skillet over medium-high heat. Once hot, add the breaded chicken breasts and cook for about 3-4 minutes per side, or until golden brown and cooked through. Transfer the cooked chicken to a baking dish and place it in the preheated oven to keep warm.

In the same skillet, melt the butter over medium heat. Add the sliced mushrooms and cook until they release their moisture and start to brown, about 5-6 minutes.

Add the minced garlic and cook for an additional 1 minute, until fragrant.

Pour in the dry white wine and lemon juice. Let the mixture simmer and reduce by half, about 5-7 minutes.

Stir in the chicken broth and heavy cream. Allow the sauce to simmer for another 5 minutes, allowing the flavors to meld. Season with salt and pepper to taste.

Remove the chicken from the oven and place it on serving plates. Spoon the mushroom sauce over the chicken.

Garnish with chopped fresh parsley for a pop of color and freshness.
Serve the Chicken Modiga hot with your choice of sides, such as pasta, rice, or vegetables.
Nutritional Content
Calories: Around 580 kcal
Protein: Approximately 36g
Carbohydrates: Roughly 30g
Dietary Fiber: About 1g
Sugars: Around 2g
Fat: Approximately 35g
Saturated Fat: Roughly 14g
Monounsaturated Fat: About 12g
Polyunsaturated Fat: Around 5g
Cholesterol: Roughly 220mg
Sodium: Approximately 900mg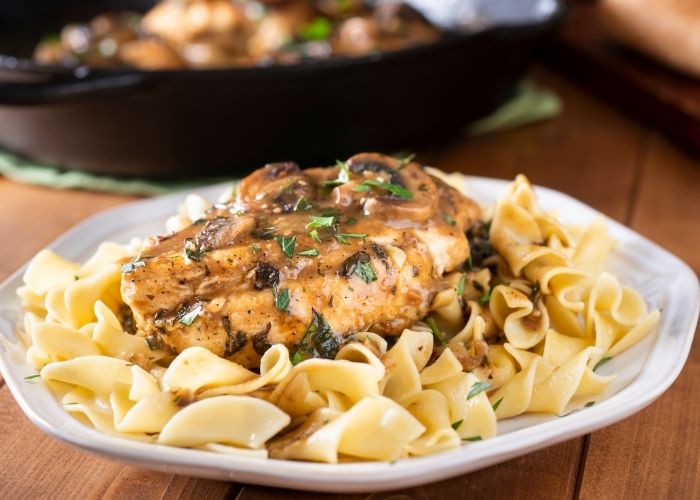 FAQs About Chicken Modiga:
What is Provel cheese, and can I substitute it?
Provel cheese is a St. Louis specialty with a unique flavor and melting property. If unavailable, you can try a combination of provolone, Swiss, and cheddar cheeses to replicate the taste and texture.
Can I use boneless chicken thighs instead of chicken cutlets?
While traditionally made with chicken cutlets, you can experiment with boneless chicken thighs for a slightly different texture and flavor. Adjust the cooking time accordingly.
Is there a vegetarian version of Chicken Modiga?
Yes, you can create a vegetarian version by substituting chicken with tofu or seitan cutlets. Adjust the cooking technique and seasonings to suit your preference.
What wine should I use for the white wine sauce?
Opt for a dry white wine, such as Sauvignon Blanc or Pinot Grigio. These wines complement the flavors of the sauce without overwhelming the dish.
Can I make Chicken Modiga ahead of time?
While the dish is best enjoyed fresh, you can prepare the components in advance. Bread and cook the chicken cutlets, make the sauce, and assemble before serving. This way, you can minimize last-minute preparations.
Can I Use Chicken Modiga Recipe to Make Chicken Carciofi?
The chicken carciofi recipe offers a unique blend of flavors with its artichokes and lemony taste. However, it is not advisable to use the chicken Modiga recipe as a substitute. Stick to the authentic recipe for a truly delightful chicken carciofi dish that will surely impress your taste buds.
Conclusion:
In conclusion, Chicken Modiga stands as a testament to the culinary innovation and cross-cultural influences that shape regional dishes. Its delicate balance of textures, flavors, and ingredients makes it a favorite among St. Louis residents and food enthusiasts alike. From its humble origins to its modern variations, Chicken Modiga continues to grace tables with its savory charm and timeless appeal.