Open Faced Chicken Pot Pie Recipe
Are you ready for the most mouthwatering, comforting, and delicious open-faced chicken pot pie recipe?
Look no further! This recipe will satisfy all your cravings with its rich and creamy filling, tender chicken, and flaky crust.
It's like a warm hug in a dish, perfect for those cozy nights when you want something hearty and comforting.
Get ready to indulge in this ultimate comfort food that will make your taste buds dance with delight.
Get ready to experience freedom on a plate!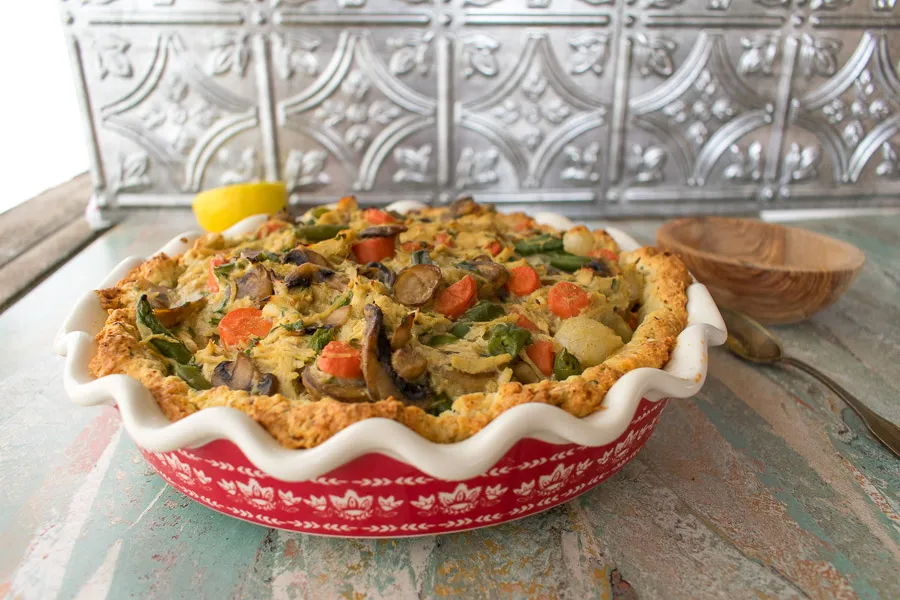 Key Takeaways
Open-faced chicken pot pie can be made with traditional ingredients like flaky pastry crust, chicken, carrots, onions, and celery, but there are also alternative options for the crust such as puff pastry, biscuit dough, or mashed potatoes.
Experimenting with different vegetables like corn, green beans, or mushrooms can add variety to the dish.
Adding a cheese topping like shredded cheddar or mozzarella can enhance the flavor and texture of the pot pie.
Prepping ingredients in advance, like chopping and dicing vegetables or precooking the chicken, can help streamline the cooking process and make it easier to prepare a quick and delicious dinner.
Open Faced Chicken Pot Pie Recipe
Course: Main
Cuisine: American
Difficulty: Easy
Looking for a hearty and comforting meal that the whole family will love? Our Open Faced Chicken Pot Pie recipe is the answer. This delightful dish takes the classic chicken pot pie and gives it a unique twist by serving it open-faced, allowing you to savor the golden, flaky crust and rich, savory filling in every bite. Whether it's a chilly winter evening or a cozy family dinner, this recipe is sure to become a favorite in your home.
Ingredients
2 cups cooked chicken, diced

1 cup frozen peas and carrots

1/2 cup diced onion

1/3 cup unsalted butter

1/3 cup all-purpose flour

1/2 teaspoon salt

1/4 teaspoon black pepper

1/4 teaspoon celery seed

3/4 cups chicken broth

2/3 cup milk

1 sheet of puff pastry
Directions
Preheat your oven to 425°F (220°C).
In a large skillet, melt the butter over medium heat. Add the onions and cook until they become translucent.
Stir in the flour, salt, pepper, and celery seed until the mixture turns a light, golden brown.
Gradually whisk in the chicken broth and milk until the mixture is thick and smooth.
Add the chicken, peas, and carrots to the skillet. Simmer until the mixture is heated through.
Roll out the puff pastry and cut it into serving-size squares or rectangles.
Ladle the chicken and vegetable mixture onto serving plates and top each with a piece of puff pastry.
Bake in the preheated oven until the pastry is puffed and golden brown.
Ingredients
To make this delicious open-faced chicken pot pie, you'll need a variety of ingredients. While a traditional chicken pot pie is typically made with a flaky pastry crust, there are several alternatives you can try. Consider using puff pastry, biscuit dough, or even a crust made from mashed potatoes for a unique twist.
Now, let's talk about what you can do with any leftover chicken pot pie filling you may have. Don't let it go to waste! One creative way to use it's to spoon it over cooked noodles or rice for a quick and flavorful meal. You can also use the filling as a topping for baked potatoes or as a filling for stuffed bell peppers. The possibilities are endless!
Prep Time
Once you have gathered all of your ingredients, it's time to begin preparing the open-faced chicken pot pie. The prep time for this delicious meal is relatively quick and easy, allowing you to have a homemade dinner on the table in no time.
Here are a few tips to help you streamline your meal planning and kitchen organization for this recipe:
Chop and dice all the vegetables in advance, such as carrots, onions, and celery. This will save you time during the actual cooking process.

Precook the chicken the day before and store it in the fridge. This way, it will be ready to go when you start making the pot pie.

Keep your kitchen organized by having all the necessary tools and utensils within reach. This includes measuring cups, cutting boards, and mixing bowls.
Cooking Time
During the cooking time of your open-faced chicken pot pie, you'll need to follow a few simple steps to ensure a perfectly cooked and delicious meal.
If you prefer a hands-off approach, there are slow cooker variations that allow you to set it and forget it. Simply combine all the ingredients in your slow cooker and let it simmer on low for 4-6 hours or on high for 2-3 hours. This method infuses the flavors together and creates a tender, melt-in-your-mouth chicken.
For those who are short on time, there are quick and easy alternatives. You can use store-bought rotisserie chicken or pre-cooked chicken breast, and instead of baking it in the oven, you can use a skillet or stovetop to cook the filling and then top it with a puff pastry or biscuit dough. These alternatives still yield a flavorful and satisfying meal.
Now, let's move on to the next section to explore some delicious serving suggestions for your open-faced chicken pot pie.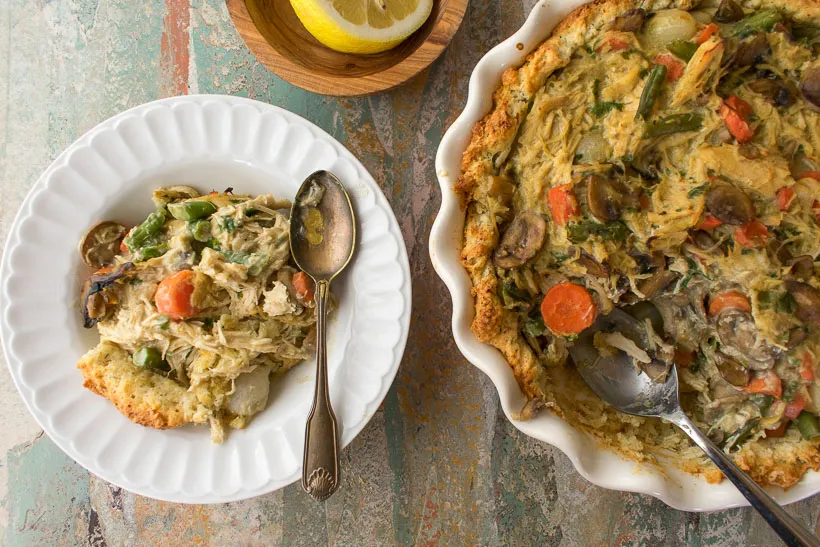 Serving Suggestions
For the perfect finishing touch to your open-faced chicken pot pie, consider some delicious serving suggestions. Here are three creative ways to use leftover chicken pot pie filling and some side dishes to pair with your open-faced chicken pot pie:
Potato and Vegetable Hash: Take the leftover chicken pot pie filling and sauté it with diced potatoes and a medley of your favorite vegetables. Season with salt, pepper, and herbs for a flavorful hash that makes a hearty and satisfying side dish.

Crispy Garlic Bread: Toast some slices of crusty bread and rub them with garlic cloves. Top with melted butter and sprinkle with grated Parmesan cheese. Serve alongside your open-faced chicken pot pie for a crunchy and flavorful accompaniment.

Fresh Garden Salad: A light and refreshing salad can balance the richness of the chicken pot pie. Toss together a mix of fresh greens, cherry tomatoes, cucumbers, and your choice of dressing. The crispness and vibrant flavors of the salad will complement the creamy chicken pot pie perfectly.
These serving suggestions will elevate your open-faced chicken pot pie experience and add variety to your meal. Enjoy the freedom to explore different flavors and pairings!
Tips and Variations
To enhance your open-faced chicken pot pie, here are some helpful tips and variations you can try.
If you're looking to switch things up and add more variety to your pot pie filling, consider substituting different vegetables. While classic pot pies typically include carrots, peas, and potatoes, you can experiment with other vegetables like corn, green beans, or even mushrooms to create a unique flavor profile.
Another way to elevate your open-faced pot pie is by adding a cheese topping. Sprinkle shredded cheddar or mozzarella over the filling before baking to create a deliciously gooey and flavorful crust. The cheese will melt and create a golden, bubbly topping that adds an extra layer of indulgence to your pot pie.
Nutritional Facts:-
Calories: 435 kcal
Total Fat: 27g

Saturated Fat: 9g
Trans Fat: 0g

Cholesterol: 70mg
Sodium: 820mg
Total Carbohydrates: 29g

Dietary Fiber: 3g
Sugars: 4g

Protein: 18g
Vitamin D: 1mcg
Calcium: 38mg
Iron: 2mg
Potassium: 399mg
Frequently Asked Questions
Can I Use a Different Type of Protein Instead of Chicken in This Recipe?
Yes, you can definitely substitute the chicken in this recipe with different types of protein. There are plenty of vegetarian alternatives such as tofu, tempeh, or even mushrooms that would work well in this dish.
Can I Make This Recipe Ahead of Time and Reheat It Later?
Yes, you can definitely make this recipe ahead of time and reheat it later. It's a great option if you want to save time and have a delicious meal ready when you need it.
Can I Freeze the Leftovers of This Open-Faced Chicken Pot Pie?
Sure, you can freeze the leftovers of this delicious open-faced chicken pot pie! When you're ready to enjoy them again, simply reheat them in the oven for a warm and comforting meal.
Can I Use Store-Bought Pie Crust Instead of Making My Own?
You can definitely use store-bought pie crusts for your open-faced pot pie. The pros are convenience and time-saving, but the cons are lack of customization. You can also try alternatives to chicken for variety.
Can I Substitute the Vegetables Listed in the Recipe With Ones of My Choice?
Yes, you can definitely substitute the vegetables listed in the recipe with ones of your choice. Feel free to modify the recipe to suit your preferences and create a personalized version of the dish.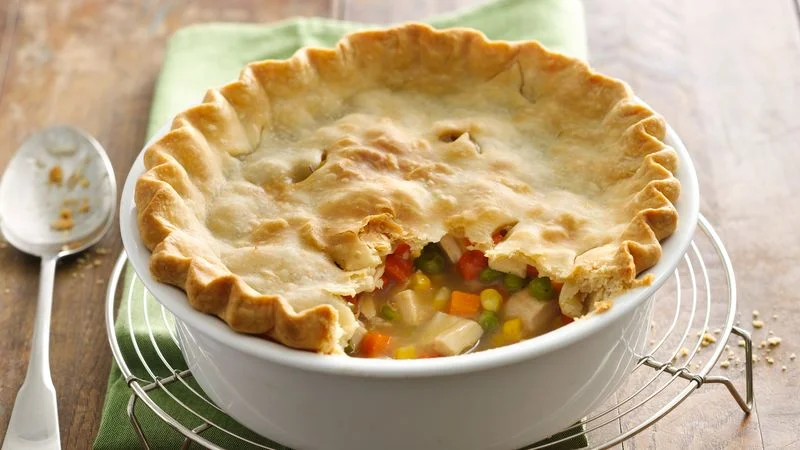 Conclusion
In just a few simple steps, you can create a mouthwatering open-faced chicken pot pie that will leave your taste buds begging for more. The combination of tender chicken, flavorful vegetables, and creamy sauce is a match made in culinary heaven.
With each bite, you'll savor the rich and comforting flavors that make this dish a classic favorite. So why wait? Gather your ingredients, follow the recipe, and get ready to indulge in a slice of pure deliciousness.
You won't be disappointed!