Souplantation Chicken Noodle Soup Recipe
Chicken noodle soup is a timeless classic, loved by people of all ages for its comforting and heartwarming qualities. There's something magical about a steaming bowl of chicken noodle soup that can lift your spirits and soothe your soul. In this article, we'll explore the art of making the perfect chicken noodle soup, from scratch, using a combination of fresh ingredients and the convenience of an Instant Pot. Whether you're a seasoned chef or a novice in the kitchen, this article is worth reading because we'll break down the process step by step, providing you with all the tips and tricks you need to create a bowl of homemade goodness that's second to none.
Seasoning Your Soup to Perfection
Seasoning is where you can really make the soup your own. Add salt and pepper to taste, along with any additional herbs and spices that appeal to you. Some people enjoy a pinch of oregano or garlic powder for extra depth of flavor. The key is to taste as you go and adjust the seasoning until it's just right for you.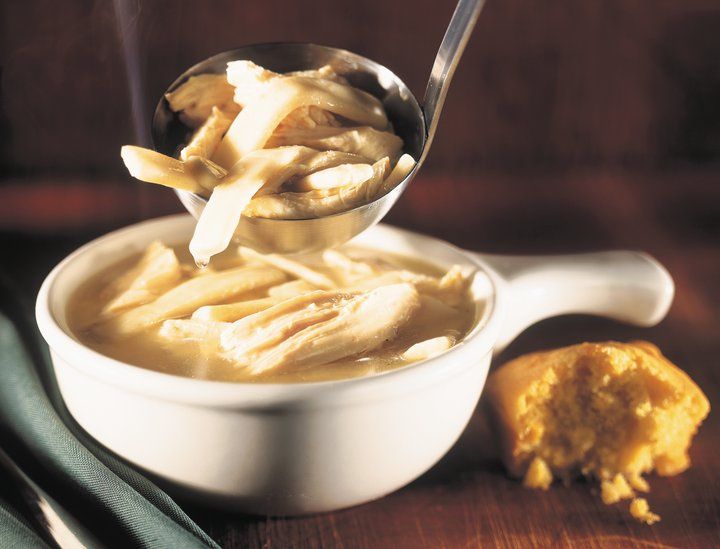 Serving Up a Bowl of Comfort
Once your vegetables are tender and your noodles are cooked, it's time to assemble your chicken noodle soup. Shred the cooked chicken into bite-sized pieces and add it back to the pot. Stir well, ensuring that every spoonful of soup is a delightful mix of chicken, vegetables, and noodles.
A Healthy Twist on Chicken Noodle Soup
If you're looking to make your chicken noodle soup even healthier, consider adding lean chicken breast instead of a whole chicken. This reduces the fat content while keeping the protein high, making it a great choice for those watching their calorie intake.
Instant Pot Magic: Speedy Soup Making
While the traditional method of making chicken noodle soup is a labor of love, you can also make a delicious version using an Instant Pot. Simply follow the same steps outlined above, but with the Instant Pot's quick cooking times, you can enjoy a bowl of homemade chicken noodle soup in a fraction of the time.
Souplantation Chicken Noodle Soup Recipe
Ingredients
2 boneless, skinless chicken breasts


6 cups chicken broth


2 cups water


2 carrots, peeled and sliced


2 celery stalks, chopped


1 small onion, diced


2 cloves garlic, minced


1 bay leaf


1 teaspoon dried thyme


Salt and black pepper to taste


8 oz. wide egg noodles


Fresh parsley for garnish (optional)
Directions
Start by seasoning the chicken breasts with salt and pepper. In a large pot, heat some oil over medium-high heat. Add the chicken breasts and cook for about 5 minutes on each side until they are browned and cooked through. Remove the chicken from the pot and set it aside to cool.

In the same pot, add a bit more oil if needed, and then add the diced onion, celery, carrots, and minced garlic. Sauté them for about 5 minutes until the vegetables are tender.

Pour in the chicken broth and water, and add the bay leaf and dried thyme. Bring the mixture to a boil, then reduce the heat and let it simmer for about 15-20 minutes to allow the flavors to meld.

While the soup simmers, shred the cooled chicken breasts using two forks or your hands.

Once the vegetables in the soup are tender, remove the bay leaf and discard it. Add the shredded chicken and egg noodles to the pot. Simmer for an additional 10-15 minutes, or until the noodles are cooked to your desired level of tenderness.

Taste the soup and adjust the seasoning with salt and pepper as needed.

Serve your homemade Souplantation Chicken Noodle Soup hot, garnished with fresh parsley if desired.

Nutritional Content
Here's a rough estimate of the nutritional content for one serving (about 1.5 cups) of Souplantation Chicken Noodle Soup:
– Calories: 250-300 kcal
– Protein: 20-25g
– Carbohydrates: 25-30g
– Fat: 6-8g
– Fiber: 2-3g
– Sodium: 800-1000mg (adjust to taste)
– Vitamin A: 50-60% of daily recommended intake
– Vitamin C: 10-15% of daily recommended intake
– Iron: 10-15% of daily recommended intake
Please note that these values may vary depending on specific ingredients and portion sizes.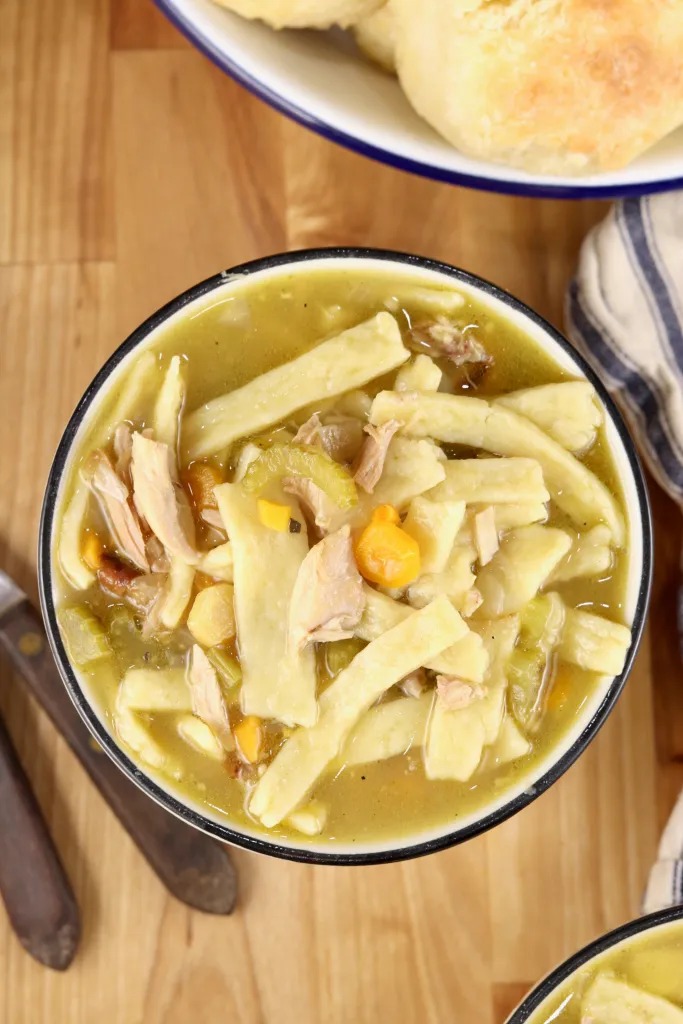 Frequently Asked Questions (FAQs)
1. Can I use store-bought rotisserie chicken instead of cooking chicken breasts?
– Yes, using rotisserie chicken is a convenient alternative. Simply shred the meat and add it to the soup during the final steps of cooking to heat through.
2. Can I use homemade chicken broth instead of store-bought?
– Absolutely! Homemade chicken broth can enhance the flavor of your soup. Just make sure it's well-seasoned to your taste.
3. What if I want to make the soup vegetarian?
– You can make a delicious vegetarian version by using vegetable broth instead of chicken broth and replacing the chicken with tofu or your favorite meat substitute.
4. How can I store leftovers?
– Refrigerate leftovers in an airtight container for up to 3-4 days. Reheat on the stove or in the microwave, adding a bit of broth or water to maintain the desired consistency.
5. Can I freeze this soup?
– While you can freeze it, the texture of the noodles may change slightly upon thawing. If you plan to freeze, do so before adding the noodles, and add fresh noodles when reheating.
Can I Use the Wawa Chicken Corn Chowder Recipe to Make the Souplantation Chicken Noodle Soup?
Can I use the wawa chicken corn chowder recipe to make the Souplantation Chicken Noodle Soup? The flavors and ingredients of these two dishes are distinctly different. While the Wawa Chicken Corn Chowder Recipe focuses on creamy corn-based soup with chicken, the Souplantation Chicken Noodle Soup is a classic chicken noodle soup with a vegetable medley.
Conclusion
In summary, chicken noodle soup is a classic comfort food that warms the heart and soothes the soul. With the right ingredients and a little bit of patience, you can create a homemade version that's far superior to anything you'll find in a can. Whether you prefer traditional stovetop cooking or the convenience of an Instant Pot, the result is a bowl of pure comfort that will make you feel cozy and cared for. So, gather your ingredients, roll up your sleeves, and get ready to savor the magic of homemade chicken noodle soup. It's a timeless dish that will never go out of style.