Wawa Chicken Corn Chowder Recipe
Are you a fan of creamy, hearty soups that warm your soul with each spoonful? If so, you're in for a treat! In this article, we're diving into the delectable world of chicken corn chowder, with a special focus on a copycat recipe inspired by the beloved Wawa convenience store's famous chicken corn chowder. Whether you're a seasoned chef or a kitchen newbie, this article is worth reading to discover the secrets of making a mouthwatering chicken corn chowder that will have your taste buds singing. So, put on your apron and get ready to embark on a culinary adventure!
What is Chicken Corn Chowder?
Chicken corn chowder is a thick and creamy soup that combines the hearty goodness of chicken and the sweet crunch of corn kernels. This delicious corn chowder is not only a satisfying meal but also a comforting experience, perfect for a cold day or when you need a bowl of soul-soothing goodness.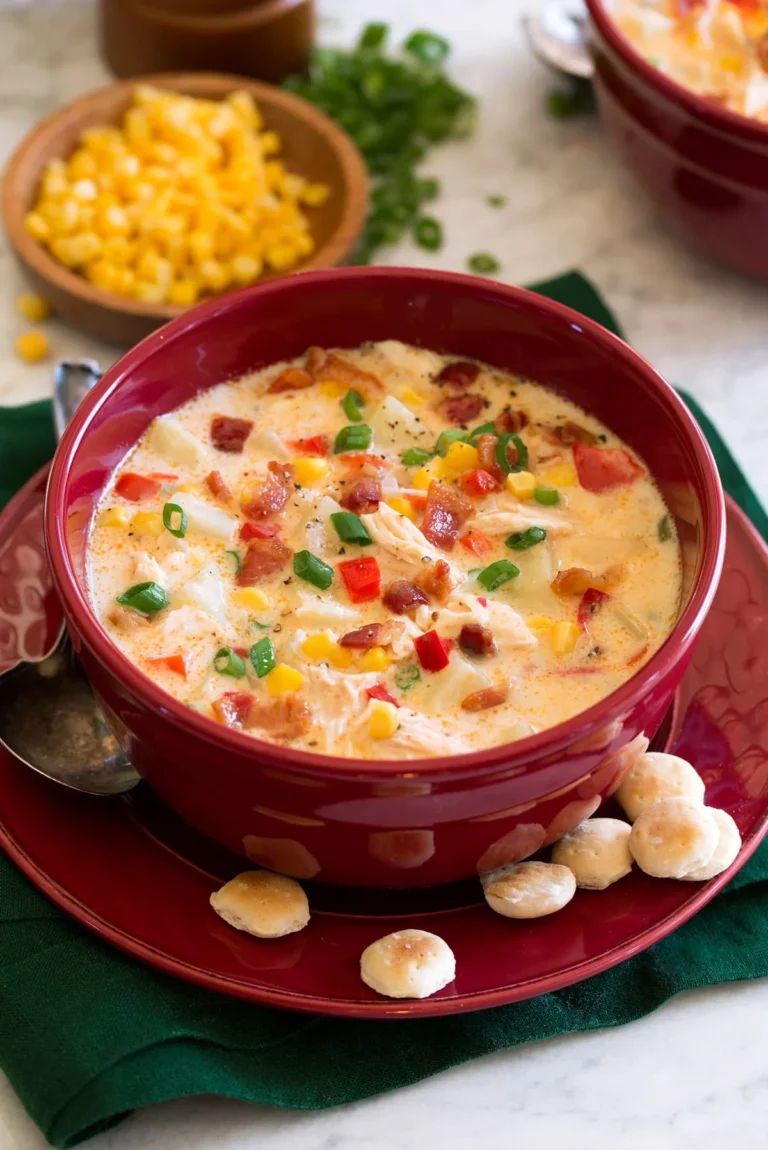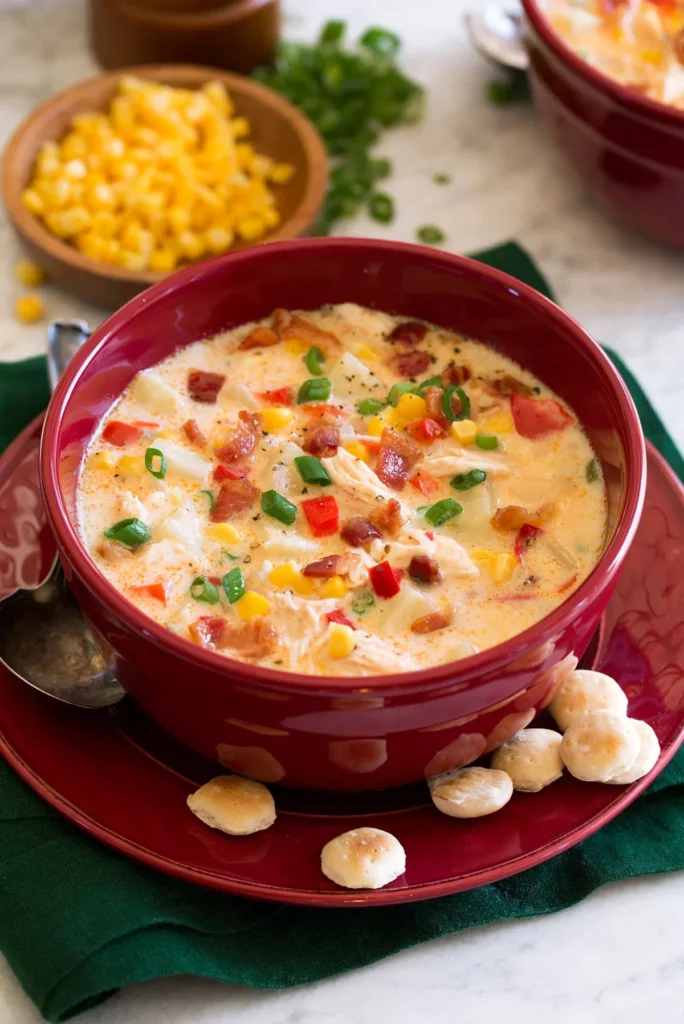 The Wawa Connection: A Beloved Recipe
Wawa, the famous convenience store chain, has gained a reputation for its tasty chicken corn chowder. People from all over flock to Wawa stores to enjoy a steaming cup or bowl of this delightful soup. But what if we told you that you can recreate the magic of Wawa's chicken corn chowder right in your own kitchen?
Tips and Tricks for the Perfect Chowder
Creating the perfect chicken corn chowder is an art, and here are some tips and tricks to ensure it turns out just right:
Strain the broth after cooking the chicken for a clear and flavorful base.
Use half and half or heavy cream for an extra creamy texture.
Don't skimp on the bacon and cheddar – they add layers of deliciousness.
For a spicy twist, consider adding a pinch of saffron or your favorite hot sauce.
The Magic of Creamy and Spicy
One of the secrets to an unforgettable chicken corn chowder is achieving the perfect balance of creaminess and a touch of spiciness. The creamy base, thanks to the heavy whipping cream and cheddar cheese, provides a velvety texture that coats your taste buds with every spoonful. Meanwhile, a hint of spice adds excitement and depth to the flavor profile, making each bite a delightful adventure.
Wawa Chicken Corn Chowder Recipe
Ingredients
Chicken Breast (2 breasts, boneless and skinless)


Corn (2 cups, fresh or frozen)


Heavy Cream (1 cup)


Chicken Broth (4 cups, low-sodium)


Butter (2 tablespoons)


Salt and Pepper to taste

Directions
Start by seasoning the chicken breasts with salt and pepper. In a large pot, melt one tablespoon of butter over medium heat. Add the chicken breasts to the pot and cook them until they are golden brown on both sides, about 5-7 minutes per side. Once cooked, remove the chicken breasts from the pot and let them cool for a few minutes. Then, shred the chicken using two forks and set it aside.

In the same pot, add the remaining one tablespoon of butter and sauté the corn for about 5 minutes until it becomes slightly caramelized and fragrant. Pour in the chicken broth and heavy cream, stirring well to combine. Bring the mixture to a gentle simmer.

Using an immersion blender, carefully blend the soup until it reaches your desired level of creaminess. You can leave some corn kernels whole for added texture. Continue simmering the chowder for an additional 10-15 minutes, allowing it to thicken.

Once the chowder has thickened to your liking, return the shredded chicken to the pot and stir it into the soup. Allow the chicken to heat through, which should take about 5 minutes. Taste and adjust the seasoning with salt and pepper if necessary.

Ladle the creamy Wawa Chicken Corn Chowder into bowls, garnish with a few corn kernels or a sprinkle of fresh parsley if desired, and serve it hot.

Nutritional Content:
Calories: 350-400
Total Fat: 25-30g
Saturated Fat: 15-18g
Cholesterol: 90-100mg
Sodium: 450-500mg
Total Carbohydrates: 20-25g
Dietary Fiber: 2-3g
Sugars: 2-3g
Protein: 15-18g
Frequently Asked Questions (FAQs):
1. Can I use canned corn instead of fresh or frozen corn?
– Yes, you can use canned corn as a convenient alternative. Just make sure to drain and rinse the canned corn before adding it to the chowder.
2. What can I substitute for heavy cream if I want a lighter version of the chowder?
– You can use half-and-half or whole milk for a lighter version of the chowder. However, keep in mind that this will alter the creaminess and richness of the soup.
3. Can I make this chowder in advance and reheat it?
– Yes, you can prepare the chowder ahead of time and reheat it gently on the stove or in the microwave. Be sure to stir it well while reheating to prevent the cream from separating.
4. What side dishes pair well with Wawa Chicken Corn Chowder?
– This chowder goes wonderfully with a simple green salad, crusty bread, or even a grilled cheese sandwich for a heartier meal.
5. Can I freeze leftover chowder?
– While you can freeze leftover chowder, the texture of the cream may change slightly upon thawing and reheating. It's best to consume it within a few days for the freshest taste.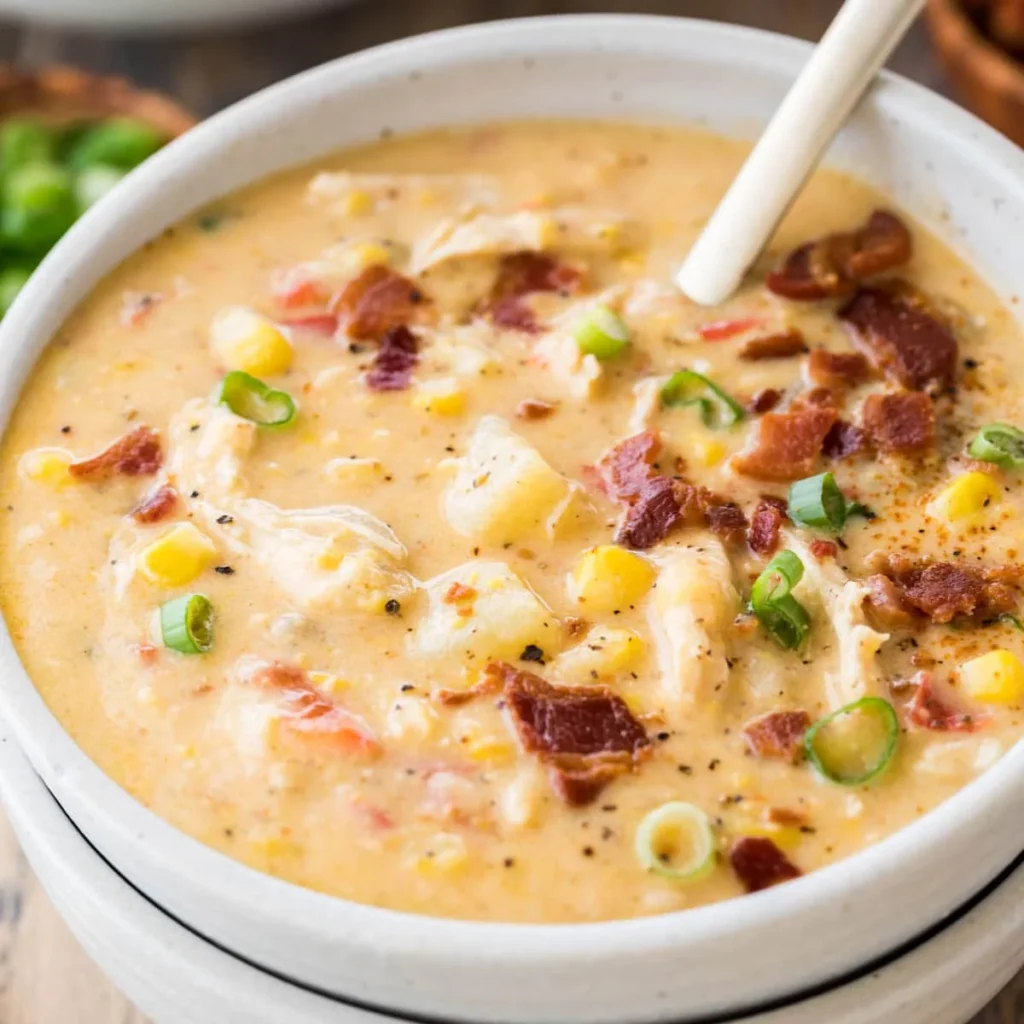 How Can I Incorporate Bilinski's Chicken Sausage into Wawa Chicken Corn Chowder Recipe?
Looking to add an extra twist to your Wawa Chicken Corn Chowder Recipe? Look no further! Bilinski's chicken sausage recipes are the perfect addition to take this dish to the next level. Simply slice and sauté the flavorful sausage before adding it to your chowder for a tasty and protein-packed upgrade. Enjoy the delightful combination of flavors in every spoonful.
Conclusion: A Bowl of Comfort
In conclusion, chicken corn chowder is more than just a soup; it's a bowl of comfort that warms your heart and satisfies your cravings. With the help of this copycat recipe, you can enjoy the flavors of Wawa's famous chicken corn chowder from the comfort of your own home. So, don't wait any longer – gather your ingredients and start cooking. Your taste buds will thank you for this super easy and incredibly delicious corn chowder!