Amylu Chicken Sausage Recipes
Looking for delicious and easy recipes to satisfy your cravings? Look no further than Amylu Chicken Sausage!
With over 50% less fat than traditional pork sausage, Amylu Chicken Sausage is the perfect choice for those who want to indulge without the guilt.
From breakfast skillets to stuffed bell peppers, these recipes will have you drooling in no time.
So why wait? Get ready to explore the mouthwatering world of Amylu Chicken Sausage and unleash your culinary freedom!
Key Takeaways
Amylu Chicken Sausage is a low-fat alternative to traditional pork sausage.
It offers a guilt-free indulgence without compromising on flavor.
Amylu Chicken Sausage is a versatile ingredient that can be used in a variety of recipes.
It is a high-quality sausage made with no artificial ingredients.
Amylu Chicken Sausage Recipes
Course: Main Course
Cuisine: American
Difficulty: Easy
If you're on the hunt for flavorful, wholesome, and versatile ingredients to elevate your cooking, Amylu Chicken Sausages are the answer. These delectable sausages, made with premium chicken and a blend of spices, open up a world of culinary possibilities. In this article, we'll dive into the world of Amylu Chicken Sausage recipes that are as delicious as they are easy to prepare. Whether you're a seasoned home cook or just starting in the kitchen, you'll find these recipes a joy to create. Let's embark on a culinary adventure with Amylu Chicken Sausages!
Ingredients
4 Amylu Chicken Sausages (your choice of flavor)

1 red bell pepper, thinly sliced

1 yellow bell pepper, thinly sliced

1 onion, thinly sliced

2 cloves garlic, minced

2 tablespoons olive oil

Salt and pepper to taste

Fresh basil leaves for garnish (optional)
Directions
Heat the olive oil in a large skillet over medium-high heat.
Add the Amylu Chicken Sausages to the skillet and cook until they are browned on all sides, about 5 minutes.
Remove the sausages from the skillet and set them aside
In the same skillet, add the sliced bell peppers, onions, and minced garlic. Sauté them until they are tender and slightly caramelized, about 7-8 minutes.
Slice the cooked Amylu Chicken Sausages into bite-sized pieces and return them to the skillet.
Season the mixture with salt and pepper to taste.
Cook for an additional 2-3 minutes, allowing the flavors to meld.
Garnish with fresh basil leaves if desired.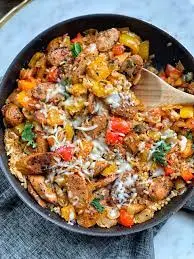 Breakfast Skillet With Amylu Chicken Sausage
You'll love the flavorful combination of Amylu Chicken Sausage in this hearty breakfast skillet. This one pot breakfast casserole is the perfect way to start your day with a burst of flavor and energy.
The savory chicken sausage adds a delicious kick to the dish, while the other ingredients, like potatoes, onions, and bell peppers, create a satisfying and filling meal. The best part? It's all cooked in one skillet, making cleanup a breeze.
Whether you're looking for a quick and easy breakfast option or want to impress your guests with a tasty brunch dish, this breakfast skillet with Amylu Chicken Sausage is sure to please.
And if you're feeling adventurous, you can even use the sausage to make chicken sausage breakfast burritos for a portable and delicious morning meal. So go ahead and enjoy the freedom of a delicious and hassle-free breakfast with Amylu Chicken Sausage.
Creamy Chicken Sausage Pasta
Try this delicious and creamy chicken sausage pasta for a comforting and satisfying meal. This one pot chicken sausage pasta combines the flavors of juicy chicken sausage with a rich and creamy alfredo sauce. It's a quick and easy dish that will leave you wanting more.
To make this mouthwatering pasta, simply cook the chicken sausage in a large skillet until browned. Then, add in your favorite pasta, along with some garlic, onion, and seasonings. Pour in a creamy alfredo sauce and let it simmer until the pasta is cooked through and the sauce is thick and creamy.
The result is a creamy and flavorful pasta dish that is perfect for a weeknight dinner or a special occasion. It's a crowd-pleaser that will have everyone asking for seconds. So why wait? Try this chicken sausage alfredo pasta today and indulge in the creamy goodness.
| Ingredient | Quantity |
| --- | --- |
| Chicken Sausage | 1 package |
| Pasta | 8 oz |
| Garlic | 2 cloves |
| Onion | 1/2 |
| Alfredo Sauce | 1 jar |
Grilled Chicken Sausage Kabobs
Fire up the grill and enjoy these mouthwatering grilled chicken sausage kabobs. These kabobs are a delicious and healthy option for your next outdoor gathering.
To make these kabobs, simply skewer pieces of Amylu chicken sausage, along with chunks of pineapple and colorful bell peppers. The combination of the smoky grilled sausage, the sweet and tangy pineapple, and the crisp peppers creates a flavor explosion that will leave your taste buds begging for more.
These kabobs can be served on their own as a main dish, or you can get creative and use them to make a grilled chicken sausage sandwich. Either way, you can't go wrong with these chicken sausage and pineapple skewers.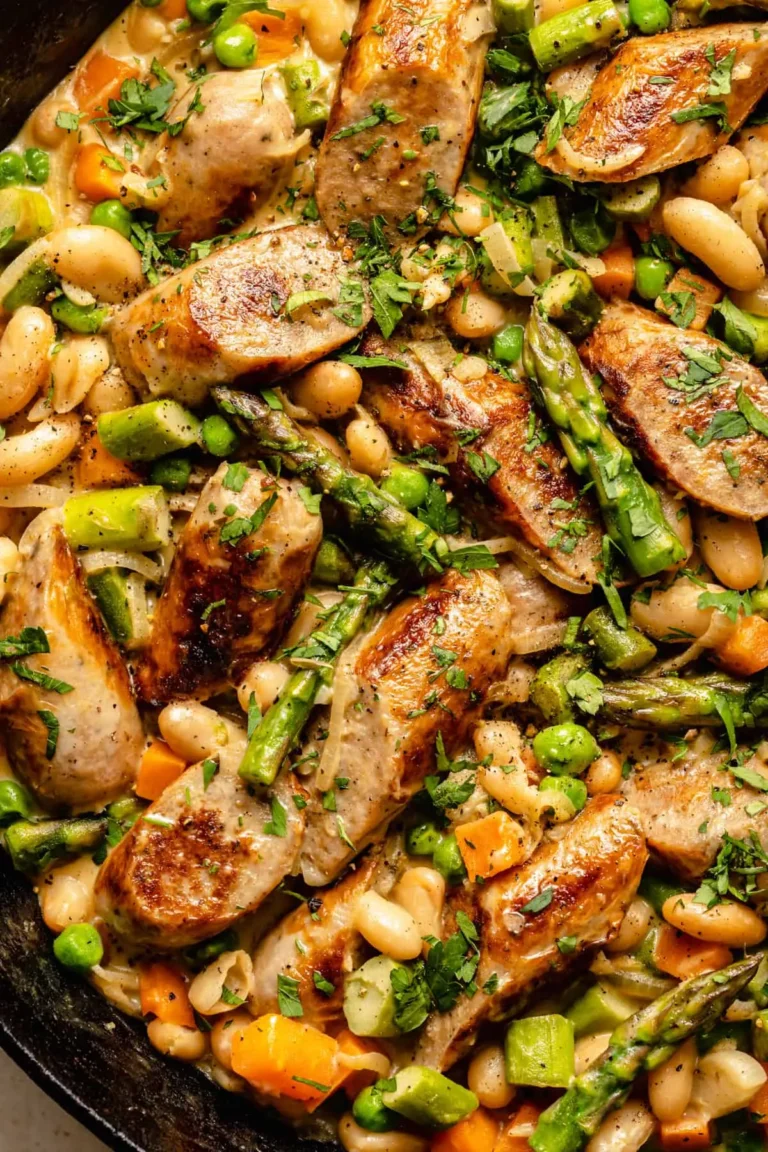 Chicken Sausage Stuffed Bell Peppers
For a delicious and nutritious meal, stuff your bell peppers with Amylu chicken sausage and enjoy a burst of flavors.
One fantastic option is to make a baked chicken sausage and pepper casserole. Start by preheating your oven to 375°F and cooking the chicken sausage until it's browned. Then, remove the sausage from the pan and sauté bell peppers, onions, and garlic until they're tender.
In a baking dish, mix together the sausage, peppers, onions, garlic, and your favorite seasonings. Bake the casserole for about 20 minutes, or until the peppers are tender and the flavors are melded together.
Another tasty alternative is to make chicken sausage and quinoa stuffed peppers. Simply cook the quinoa according to package instructions, mix it with cooked chicken sausage, diced tomatoes, and your choice of herbs and spices.
Stuff the mixture into halved bell peppers and bake them for about 30-35 minutes, until the peppers are soft and the filling is heated through. These stuffed bell peppers aren't only satisfying and flavorful, but they also provide a healthy dose of protein and veggies.
Enjoy!
Chicken Sausage and Vegetable Stir-Fry
To create a flavorful and healthy meal, sauté Amylu chicken sausage and a variety of vegetables in a delicious stir-fry. This dish is perfect for those who desire a meal that's both satisfying and nutritious.
Start by slicing the Amylu chicken sausage into bite-sized pieces. Heat a frying pan over medium-high heat and add a drizzle of oil. Toss in the chicken sausage and cook until browned and cooked through.
Next, add your favorite vegetables such as bell peppers, broccoli, and carrots. Stir-fry until the vegetables are crisp-tender. For an added burst of flavor, you can also include pineapple chunks or pineapple skewers. The sweetness of the pineapple complements the savory flavors of the chicken sausage and vegetables perfectly.
Serve this stir-fry over a bed of quinoa for a complete and filling meal. The quinoa adds a nutty flavor and provides a good source of protein.
This chicken sausage and vegetable stir-fry is a versatile dish that can be enjoyed for lunch or dinner. It's a quick and easy recipe that's sure to please your taste buds.
Nutritional Facts:-
Calories: 260
Total Fat: 15g

Saturated Fat: 3g
Trans Fat: 0g

Cholesterol: 65mg
Sodium: 570mg
Total Carbohydrates: 14g

Dietary Fiber: 2g
Sugars: 4g

Protein: 18g
Frequently Asked Questions
What Are Some Other Types of Sausages That Can Be Used in the Breakfast Skillet Recipe?
Looking to switch up your breakfast skillet recipe? Try using different types of sausages like pork, turkey, or even vegetarian options. Get creative and experiment with flavors to find your perfect combination!
Can the Creamy Chicken Sausage Pasta Be Made With a Different Type of Pasta?
Sure, you can totally switch up the pasta for the creamy chicken sausage dish. Try penne, linguine, or even bowtie. As for sauces, experiment with a creamy alfredo or a zesty pesto. Get creative and enjoy!
How Long Should the Grilled Chicken Sausage Kabobs Be Cooked on the Grill?
When grilling chicken sausage kabobs, it's important to cook them for the right amount of time to ensure they're juicy and flavorful. Here are some tips for getting the perfect cooking time on the grill.
What Are Some Alternative Fillings That Can Be Used in the Chicken Sausage Stuffed Bell Peppers?
Looking for creative ways to use chicken sausage in recipes? Try stuffing bell peppers with alternative fillings like quinoa, black beans, and cheese. It adds a delicious twist to the classic dish. Enjoy the freedom to experiment!
Can the Chicken Sausage and Vegetable Stir-Fry Be Made With a Different Type of Protein, Such as Tofu or Shrimp?
Yes, you can change up the protein in the chicken sausage and vegetable stir-fry. Instead of tofu or shrimp, try using ground beef or turkey for a hearty and flavorful twist. Enjoy exploring different options!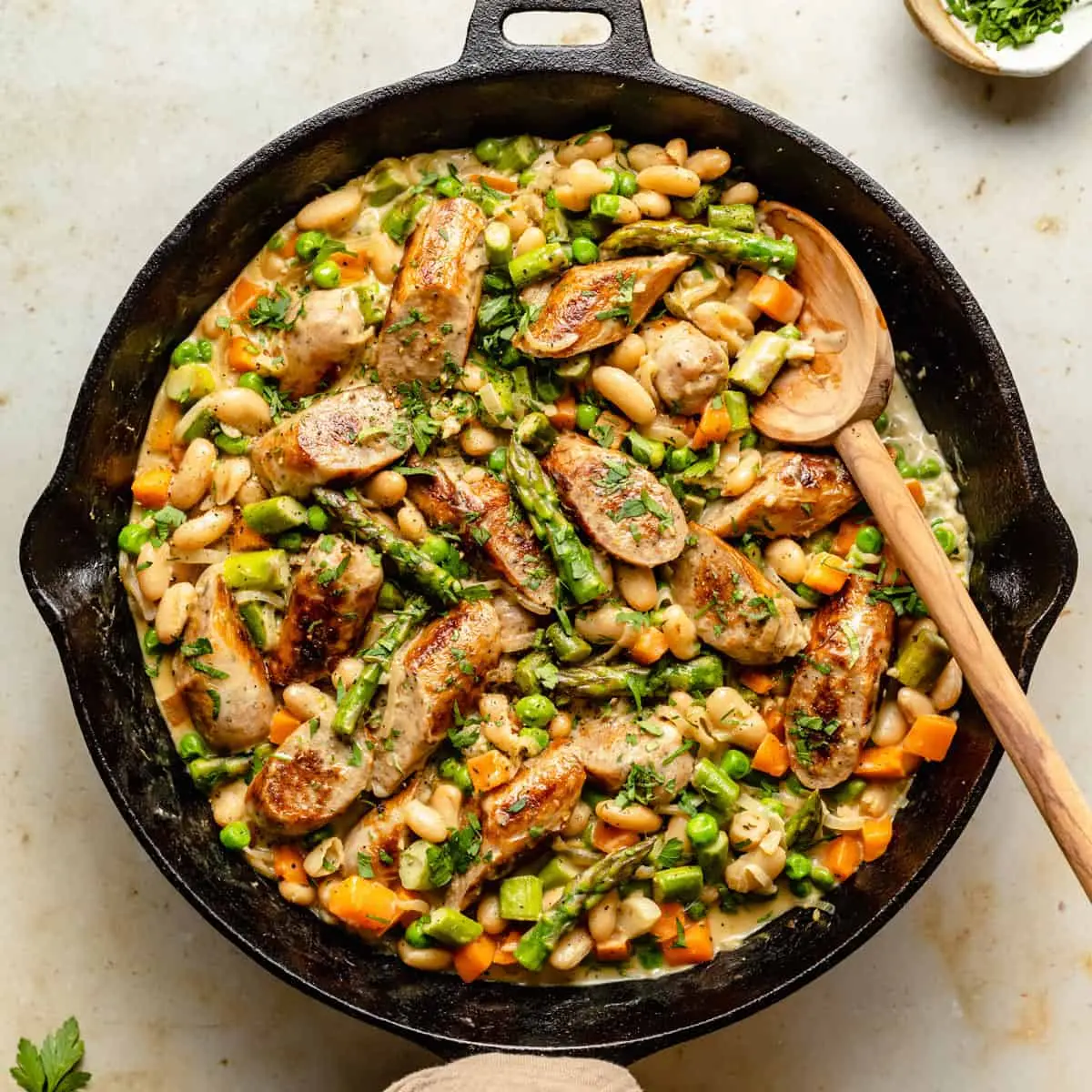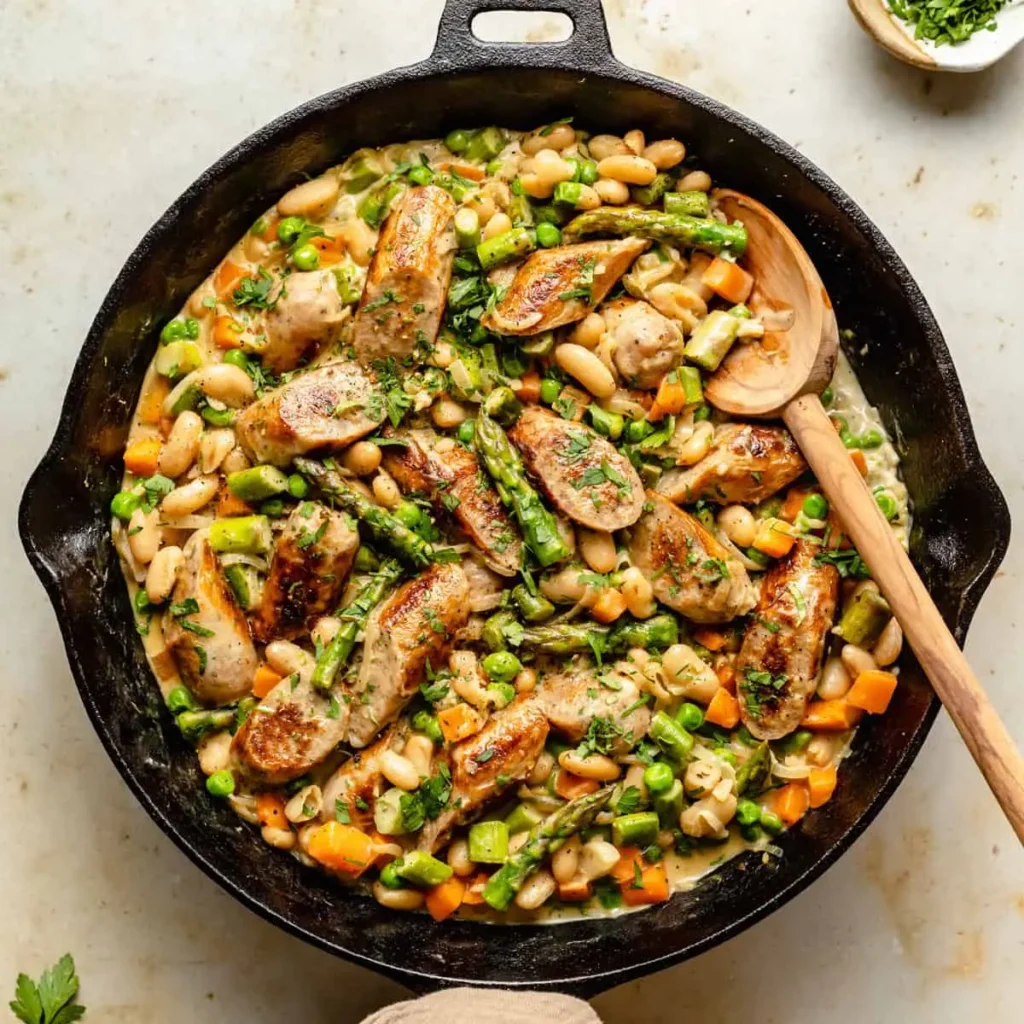 Can I Use Amylu Chicken Sausage in the Struggle Meals Recipes?
Yes, you can use Amylu Chicken Sausage in the struggle meals chicken recipes. The flavorful sausage adds a delicious twist to any dish while keeping it quick and convenient. Whether you're making a hearty pasta or a tasty stir-fry, incorporating Amylu Chicken Sausage will surely elevate your struggle meals to new heights.
Conclusion
In conclusion, Amylu chicken sausage offers a delicious and versatile option for your meals. With its delectable flavors and high-quality ingredients, you can easily whip up a variety of dishes.
Did you know that Amylu chicken sausage contains 50% less fat than traditional pork sausage? This statistic highlights the healthier choice without compromising on taste.
So why not give these recipes a try and enjoy a flavorful and nutritious meal with Amylu chicken sausage today!