Applebee's Chicken Tortilla Soup Recipe
If you're a fan of Mexican cuisine, there's a good chance you've tried chicken tortilla soup at your favorite restaurant. This flavorful and comforting soup is a popular choice for many, and for a good reason. The combination of tender chicken, crispy tortilla strips, and a rich, spicy broth is simply irresistible. But what if you could recreate this restaurant favorite right at home? That's where our copycat chicken tortilla soup recipe comes in. In this article, we'll walk you through the steps to make a delicious cheese chicken tortilla soup that rivals your favorite restaurant's version.
What is Chicken Tortilla Soup?
Chicken tortilla soup is a classic Mexican-inspired dish that combines the heartiness of chicken with the crunch of tortilla strips in a flavorful soup base. It's a beloved comfort food known for its bold flavors and satisfying textures. Whether you've had it at a restaurant or are new to the dish, making it at home is a rewarding culinary experience.
How to Customize Your Soup
One of the great things about chicken tortilla soup is its versatility. You can customize it to suit your taste. Consider adding extra chicken, swapping out ingredients, or adjusting the level of spiciness to make it your own.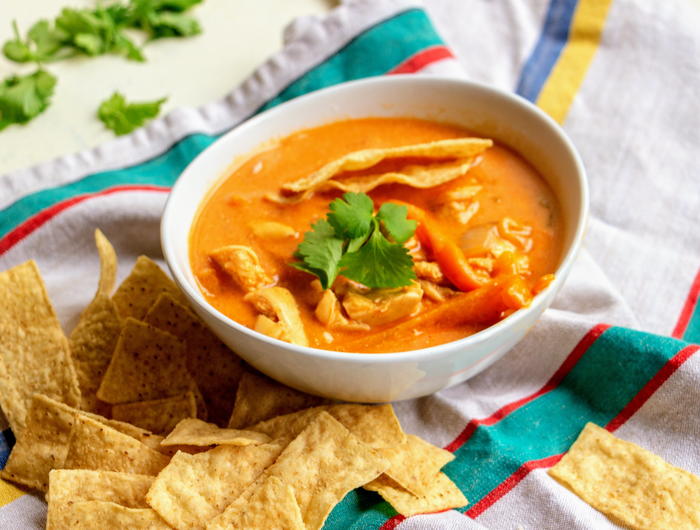 Nutrition Facts and Health Considerations
While chicken tortilla soup is undeniably delicious, it's important to be aware of its nutritional content. The soup can be high in calories and sodium, especially if you're enjoying it at a restaurant. Making it at home allows you to have better control over the ingredients, making it a healthier choice.
Tips for the Perfect Soup
Here are some tips to ensure your chicken tortilla soup turns out perfectly:
– Use skinless chicken breasts for a leaner option.
– If you're short on time, use chicken bouillon for a quick broth.
– For a creamier soup, whisk sour cream into the soup.
– To make it even heartier, consider adding extra vegetables like corn or black beans.
Slow Cooker Chicken Tortilla Soup Variation
If you prefer a more hands-off approach, you can make slow cooker chicken tortilla soup. Simply combine all the ingredients in your slow cooker, set it to low, and let it simmer for a few hours. This method allows the flavors to meld together beautifully, resulting in a delicious soup.
A Hearty Alternative: Albondigas Soup
If you're looking to explore other Mexican-inspired soups, consider trying albondigas soup, also known as meatball soup. It's a flavorful and filling soup made with meatballs, vegetables, and a savory broth. It's another comforting option to add to your repertoire of Mexican soups.
Applebee's Chicken Tortilla Soup Recipe

Ingredients
 2 boneless, skinless chicken breasts (approximately 1 lb)


1 tablespoon vegetable oil


1 cup diced onion


1/2 cup diced green bell pepper


1/2 cup diced red bell pepper


1 tablespoon minced garlic


1 can (10 oz) diced tomatoes with green chilies


1 can (10 oz) red enchilada sauce


1 can (14 oz) chicken broth


1 teaspoon chili powder


1 teaspoon cumin


1 teaspoon salt (or to taste)


1/2 teaspoon black pepper (or to taste)


1/2 teaspoon paprika


1/2 teaspoon dried oregano


1/2 teaspoon sugar


1/4 cup chopped fresh cilantro


1/4 cup chopped fresh parsley


1 cup shredded Monterey Jack cheese


Tortilla strips or chips (for garnish)


Sour cream (optional, for garnish)


Sliced avocado (optional, for garnish)

Directions
Start by seasoning the chicken breasts with salt and pepper. Heat a large soup pot or Dutch oven over medium-high heat, add the vegetable oil, and sear the chicken breasts until they are cooked through, about 4-5 minutes per side. Remove the chicken from the pot and set it aside to cool.

In the same pot, add the diced onions, green bell pepper, and red bell pepper. Sauté for about 5 minutes, or until the vegetables are tender.

Stir in the minced garlic and cook for another 1-2 minutes until fragrant.

Add the diced tomatoes with green chilies, red enchilada sauce, chicken broth, chili powder, cumin, paprika, dried oregano, and sugar to the pot. Mix well.

Shred the cooked chicken using two forks and return it to the pot. Simmer the soup over medium heat for approximately 20-25 minutes, allowing all the flavors to meld together.

Stir in the fresh cilantro and parsley, and let the soup simmer for an additional 5 minutes.

Taste the soup and adjust the seasoning with salt and pepper if necessary.

To serve, ladle the soup into bowls and garnish with shredded Monterey Jack cheese, tortilla strips or chips, and optionally, sour cream and sliced avocado.

Nutritional Content
The nutritional content of a serving (approximately 1 cup) of Applebee's Chicken Tortilla Soup is as follows:
– Calories: 180
– Total Fat: 6g
– Saturated Fat: 2g
– Cholesterol: 35mg
– Sodium: 790mg
– Total Carbohydrates: 19g
– Dietary Fiber: 3g
– Sugars: 7g
– Protein: 14g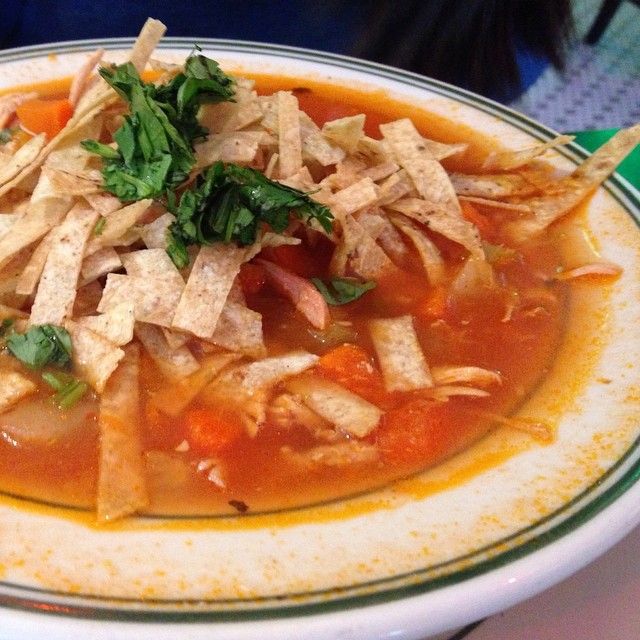 Frequently Asked Questions (FAQs)
1. Can I make this soup spicier?
Yes, if you prefer a spicier soup, you can adjust the heat level by adding more chili powder or using diced tomatoes with hotter peppers. You can also garnish with extra hot sauce or jalapeños.
2. Can I use pre-cooked or rotisserie chicken?
Absolutely! Using pre-cooked chicken can save you time. Simply shred the cooked chicken and add it to the soup during the last 10-15 minutes of simmering.
3. What can I substitute for red enchilada sauce?
If you don't have red enchilada sauce on hand, you can use tomato sauce or tomato puree mixed with a blend of chili powder, cumin, and paprika to achieve a similar flavor profile.
4. How do I store leftovers?
Store any leftover soup in an airtight container in the refrigerator for up to 3-4 days. Reheat on the stove or in the microwave.
5. Can I make this soup vegetarian?
Yes, you can easily make a vegetarian version by omitting the chicken and using vegetable broth instead of chicken broth. You can also add beans or tofu for extra protein.
Can I Use Souped Up Recipes Sesame Chicken as a Base for Applebee's Chicken Tortilla Soup?
Looking to give your homemade soup a delicious twist? Why not consider using Souped Up Recipes' sesame chicken recipe as a base for your Applebee's chicken tortilla soup? With its flavorful ingredients and easy-to-follow steps, this souped up sesame chicken recipe will surely add a delightful kick to your tortilla soup.
Conclusion
In conclusion, chicken tortilla soup is an easy and delicious soup that you can enjoy right at home. By following this copycat recipe, you'll be able to savor the flavors of your favorite restaurant-style soup without leaving your kitchen. Whether you're a fan of Applebee's chicken tortilla soup or just love a good bowl of tortilla soup, this recipe is worth a try.
Remember to gather all the necessary ingredients, follow the step-by-step instructions, and don't be afraid to add your own twist to make it uniquely yours. With a little effort and creativity, you'll have a steaming bowl of chicken tortilla soup that's both comforting and satisfying. Enjoy!