Buca Di Beppo Chicken Carbonara Recipe
If you're a fan of Italian cuisine, you've probably heard of Buca di Beppo. This beloved restaurant is famous for its family-style dishes, and one of the standout favorites is the Chicken Carbonara. Creamy, cheesy, and packed with flavor, it's a dish that's hard to forget. But what if we told you that you could recreate this mouthwatering delight at home? In this article, we're diving deep into the world of Buca di Beppo's Chicken Carbonara and sharing a copycat recipe that will have you savoring every bite. So, grab your apron and get ready to embark on a culinary adventure!
What is Buca di Beppo?
Before we dive into the culinary marvel that is Chicken Carbonara, let's take a moment to get acquainted with Buca di Beppo. Founded in 1993, Buca di Beppo is an Italian-American restaurant chain known for its quirky, vintage-inspired décor and generous portion sizes. The name itself translates to "Joe's Basement" in Italian, and the restaurant's cozy, family-style ambiance reflects that concept perfectly.
Buca di Beppo has gained fame for its extensive menu of Italian classics, from pizza and pasta to antipasti and decadent desserts. Among its many offerings, one dish that stands out is the indulgent Chicken Carbonara.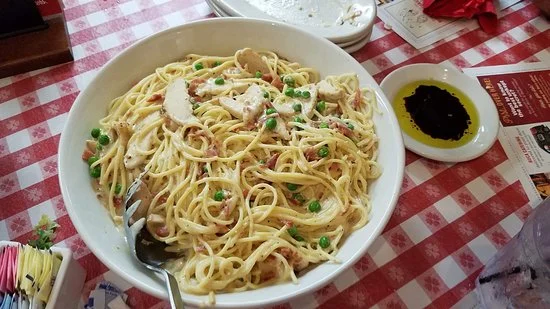 The Allure of Chicken Carbonara
Chicken Carbonara is a beloved Italian pasta dish known for its rich and creamy sauce. It combines tender chicken pieces, crispy prosciutto, and al dente pasta, all bathed in a luscious Alfredo sauce. The flavors are further enhanced with the addition of sun-dried tomatoes, peas, and a generous sprinkle of Parmesan cheese. Every bite is a delightful fusion of savory and cheesy goodness.
A Taste of Italy: Buca di Beppo's Signature Dish
Buca di Beppo's Chicken Carbonara is more than just a dish; it's a culinary experience that brings the flavors of Italy to your table. With the right ingredients and a little know-how, you can recreate this Italian masterpiece at home and savor its cheesy, creamy goodness with every bite.
Tips and Tricks for a Cheesy Garlic Extravaganza
As you embark on your Chicken Carbonara journey, here are some additional tips and tricks to ensure your dish turns out just right:
Fresh Mozzarella Magic: Consider adding fresh mozzarella for an extra layer of cheesy decadence. Simply tear it into small pieces and scatter it over your dish before serving.
Wine Pairing: If you want to elevate your meal, pair your Chicken Carbonara with a crisp Sauvignon Blanc. The wine's acidity complements the richness of the Alfredo sauce beautifully.
Family-Style Dining: Serve your homemade Chicken Carbonara family-style, just like at Buca di Beppo. It's a fun way to enjoy the dish together with loved ones.
Leftover Love: Chicken Carbonara is one of those dishes that tastes even better the next day. Don't hesitate to make extra and enjoy the leftovers for lunch or dinner.
Garnish with Fresh: Finish your dish by garnishing it with fresh ingredients like parsley or basil. Not only does this add a pop of color, but it also brings a burst of fresh flavor to each bite.
Buca Di Beppo Chicken Carbonara Recipe
Ingredients
8 ounces of spaghetti


2 tablespoons olive oil


2 boneless, skinless chicken breasts, thinly sliced


3 cloves garlic, minced


1 cup heavy cream


1 cup grated Parmesan cheese


2 large eggs


Salt and pepper, to taste


Fresh parsley, chopped (for garnish)

Directions
Boil the spaghetti in a large pot of salted water according to package instructions until al dente. Drain and set aside.

In a large skillet, heat the olive oil over medium-high heat. Add the sliced chicken breasts and cook until they are no longer pink in the center and have a golden brown color, about 5-6 minutes per side. Remove the chicken from the skillet and set it aside.

In the same skillet, add minced garlic and cook for about a minute until fragrant. Reduce the heat to medium-low and pour in the heavy cream. Stir constantly and let it simmer for about 2 minutes.

Gradually whisk the grated Parmesan cheese into the cream sauce until it's smooth and thickened. This will take about 2-3 minutes. Season the sauce with salt and pepper to taste.

In a separate bowl, whisk the two large eggs. Gradually pour a small amount of the hot cream sauce into the eggs while constantly whisking. This tempers the eggs, preventing them from scrambling when added to the hot sauce. Then, pour the egg mixture back into the skillet, whisking continuously until fully incorporated.

Add the cooked spaghetti and cooked chicken to the skillet, tossing everything together to coat the pasta and chicken evenly with the carbonara sauce. Continue cooking for another 2-3 minutes until everything is heated through.

Remove the skillet from heat and garnish with freshly chopped parsley. Serve the Buca di Beppo-inspired chicken carbonara hot.

Nutritional Content (Approximate per Serving):
Calories: 700-750 kcal
Protein: 32g
Carbohydrates: 39g
Fat: 45g
Saturated Fat: 23g
Cholesterol: 238mg
Sodium: 560mg
Fiber: 2g
Sugars: 2g
FAQs:
1. What is Buca di Beppo Chicken Carbonara?
Buca di Beppo Chicken Carbonara is a delicious Italian-inspired pasta dish made with spaghetti, creamy Parmesan sauce, garlic, and tender slices of chicken. It's a popular menu item at the Buca di Beppo restaurant chain.
2. Can I use a different type of pasta for this recipe?
Yes, you can. While spaghetti is traditional for carbonara, you can use other pasta shapes like fettuccine, linguine, or penne if you prefer. Just adjust the cooking time accordingly.
3. Is it necessary to use heavy cream, or can I use a lighter option?
Heavy cream is typically used in carbonara to create its rich and creamy texture. You can experiment with lighter alternatives like half-and-half or whole milk, but it may result in a less creamy sauce.
4. Can I make this dish vegetarian?
Yes, you can make a vegetarian version of this dish by omitting the chicken and using vegetable broth instead of chicken broth for added flavor. You can also consider adding sautéed mushrooms or peas for extra depth.
5. How can I prevent the eggs from scrambling when adding them to the sauce?
To prevent the eggs from scrambling, it's crucial to gradually whisk in a small amount of the hot cream sauce into the eggs while constantly whisking. This process, called tempering, brings the egg temperature up gradually, ensuring a smooth incorporation into the sauce.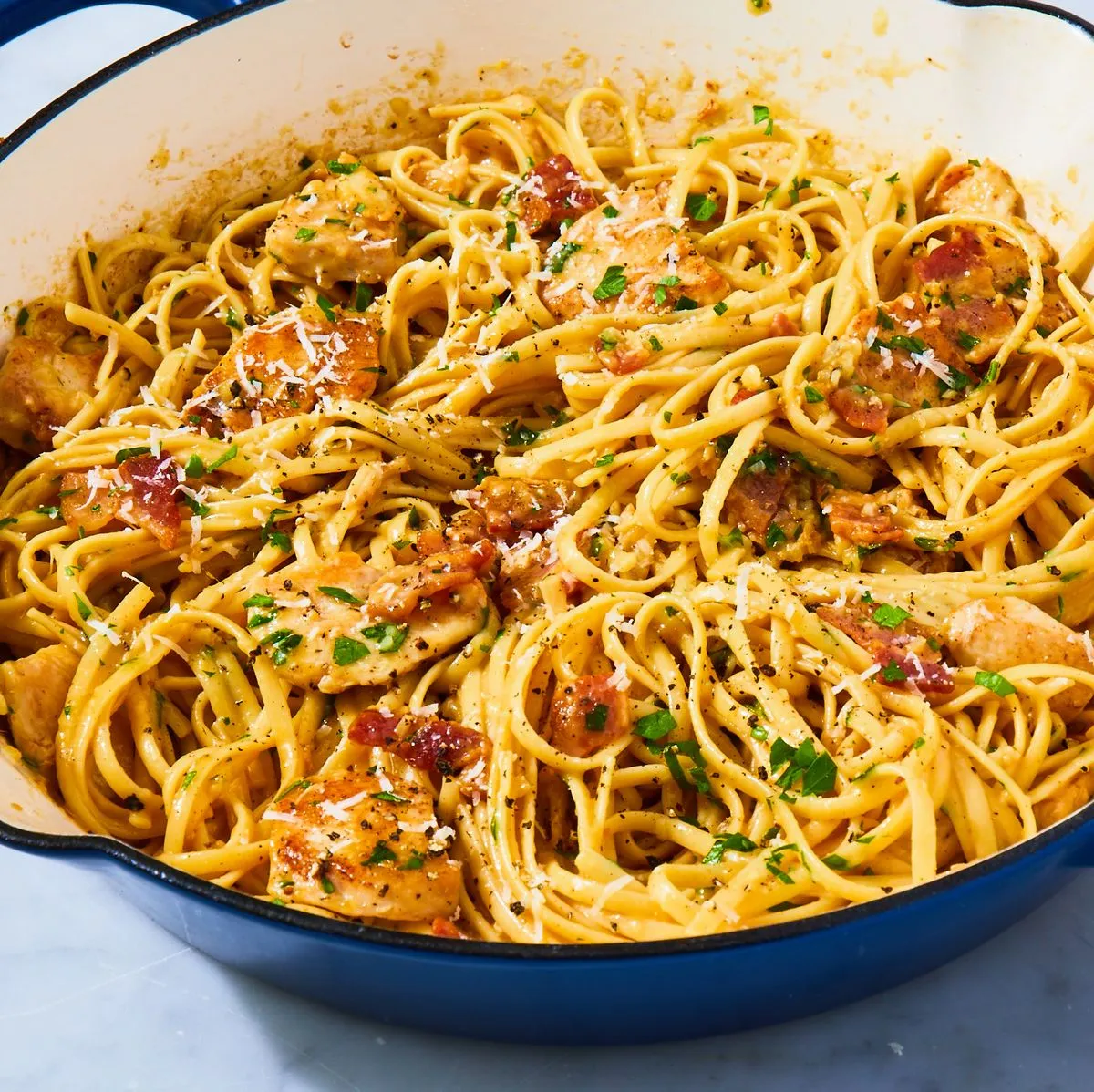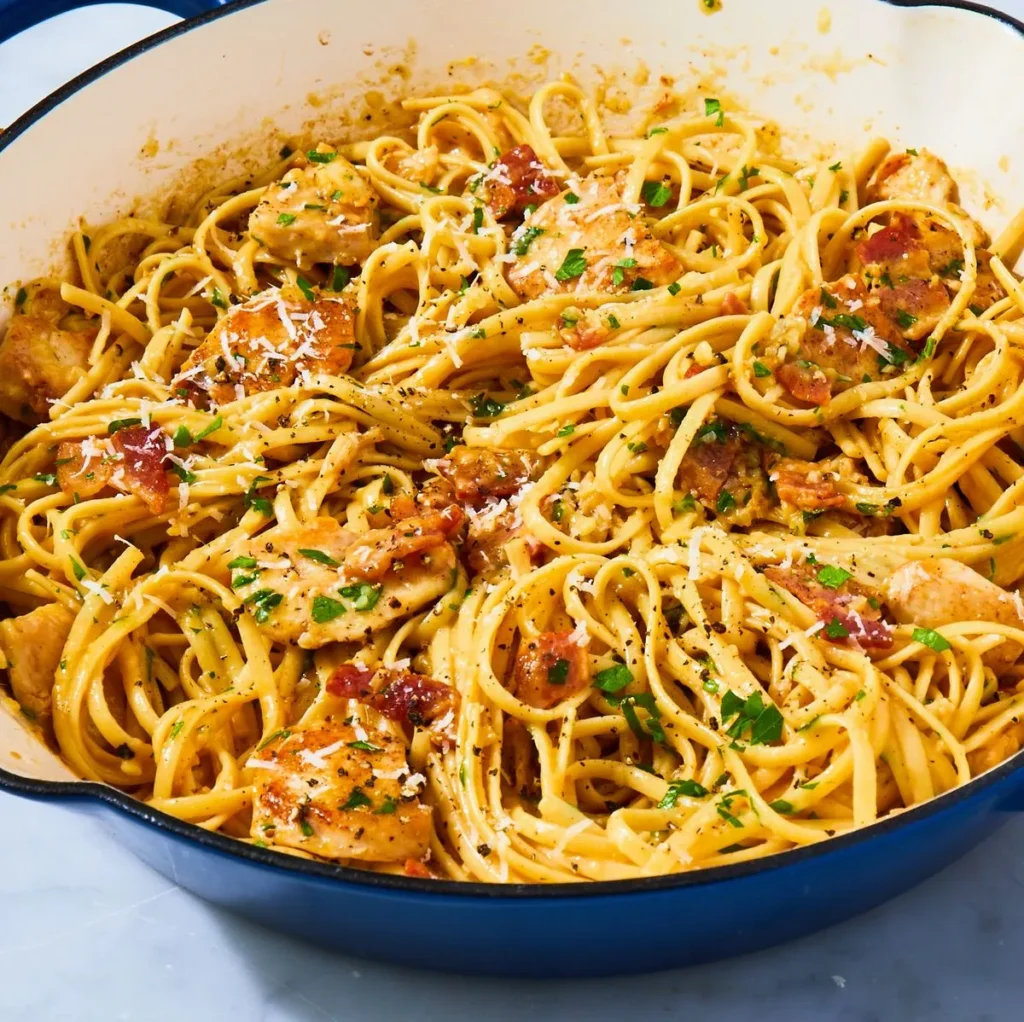 Can I Use the same chicken recipe for both Buca Di Beppo Chicken Carbonara and Heloise Italian Chicken?
Yes, you can use the same heloise homemade italian chicken recipe for both Buca Di Beppo Chicken Carbonara and Heloise Italian Chicken. The recipe is incredibly versatile, allowing you to customize it according to your preferences. Whether you want a creamy carbonara or traditional Italian flavors, this recipe will work wonders.
Conclusion: A Homemade Feast Worth Savoring
In conclusion, Buca di Beppo's Chicken Carbonara is a culinary masterpiece that's as delightful to make as it is to eat. With a creamy Alfredo sauce, perfectly cooked chicken, and the right pasta, you can recreate this restaurant favorite in your own kitchen. Whether you're preparing it for a special occasion or just craving a taste of Italy, this copycat recipe will not disappoint. So, don your apron, gather your ingredients, and get ready to savor every cheesy, savory bite of this homemade feast. Buon appetito!