Sweet Baby Ray's Garlic Parmesan Chicken Pasta Recipe
If you're a fan of savory and cheesy pasta dishes, you're in for a treat! In this comprehensive guide, we'll delve into the world of mouthwatering Garlic Parmesan Chicken Pasta prepared in a crockpot. This delectable dish combines the rich flavors of garlic, Parmesan cheese, and tender chicken, all cooked to perfection in the slow cooker. Whether you're a busy parent, a working professional, or just someone who loves a hearty meal, this article is worth reading. We'll cover everything you need to know to create a restaurant-quality dish right in your own kitchen.
What is Garlic Parmesan Chicken Pasta?
Before we jump into the cooking process, let's understand the star of our dish – Garlic Parmesan Chicken Pasta. It's a delightful combination of succulent chicken breast, creamy Parmesan garlic sauce, and perfectly cooked pasta. This dish is a true comfort food that's both filling and satisfying. The garlic and Parmesan cheese provide a rich, savory flavor that pairs perfectly with tender chicken and pasta.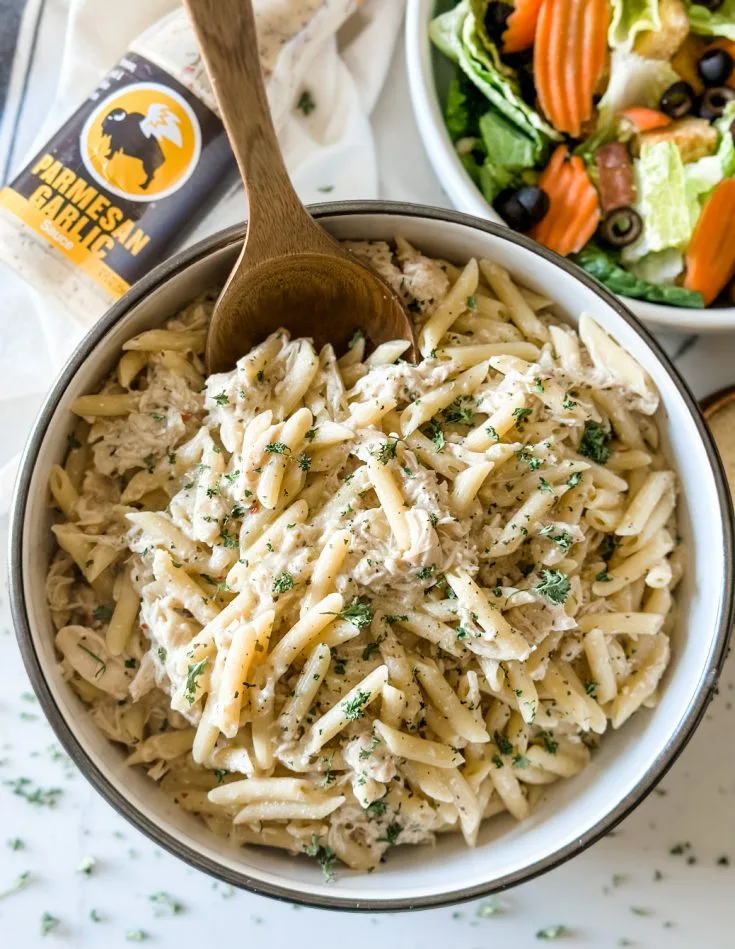 Why Use a Crockpot for this Recipe?
Using a crockpot for this recipe has several advantages. First, it's incredibly convenient. You can set it and forget it, allowing the slow cooker to work its magic while you go about your day. Second, the slow cooking process ensures that the chicken becomes incredibly tender and infused with the flavors of the sauce. Finally, it's a one-pot meal, which means fewer dishes to clean up – always a win!
Instant Pot vs. Crockpot: Which Is Better?
If you're short on time, you might be wondering if you can make this dish in an Instant Pot. While it's possible, the slow cooker brings out the best flavors in this recipe. The chicken becomes incredibly tender, and the sauce melds perfectly with the pasta. So, for the ultimate result, stick with your trusty crockpot.
Tips for Perfecting Your Dish
Use high-quality Parmesan cheese for a richer flavor.
Don't overcook the chicken; it should be tender, not dry.
Taste and adjust the seasonings as needed.
For a spicier twist, add a dash of hot sauce or red pepper flakes.
Serve with garlic bread or breadsticks for the perfect side.
Sweet Baby Ray's Garlic Parmesan Chicken Pasta Recipe
Ingredients
8 oz (about 2 cups) of pasta (penne, fettuccine, or your choice)


2 boneless, skinless chicken breasts


4 cloves of garlic, minced


1/2 cup grated Parmesan cheese


1/2 cup Sweet Baby Ray's Garlic Parmesan Wing Sauce


2 tablespoons olive oil


Salt and pepper to taste


Fresh parsley for garnish (optional)
Directions
Begin by boiling a large pot of salted water. Once boiling, add the pasta and cook according to the package instructions until al dente. Drain and set aside.

While the pasta is cooking, season the chicken breasts with salt and pepper. In a large skillet, heat the olive oil over medium-high heat. Add the chicken breasts and cook for about 6-7 minutes on each side, or until they are cooked through and no longer pink in the center. Remove the chicken from the skillet and let it rest for a few minutes before slicing it into thin strips.

In the same skillet, add the minced garlic and sauté for about 1-2 minutes until fragrant. Be careful not to burn the garlic.

Reduce the heat to low, then add Sweet Baby Ray's Garlic Parmesan Wing Sauce to the skillet. Stir well to combine the garlic and sauce.

Add the cooked pasta to the skillet with the garlic parmesan sauce. Toss the pasta to coat it evenly with the sauce.

Gently fold in the sliced chicken and grated Parmesan cheese. Continue to cook for an additional 2-3 minutes, or until the cheese has melted and the chicken is heated through.

Garnish the dish with fresh parsley if desired, and serve your Sweet Baby Ray's Garlic Parmesan Chicken Pasta hot.

Nutritional Content (per serving):
Calories: Approximately 500 kcal
Protein: 30g
Carbohydrates: 45g
Fat: 20g
Fiber: 2g
Sugar: 2g
Sodium: 900mg (may vary depending on specific brands and quantities used)
Frequently Asked Questions (FAQs):
1. Can I use a different type of pasta?
Yes, you can use your preferred pasta shape or type, such as linguine, spaghetti, or even gluten-free pasta, if needed. Just adjust the cooking time accordingly.
2. Is Sweet Baby Ray's Garlic Parmesan Wing Sauce spicy?
No, Sweet Baby Ray's Garlic Parmesan Wing Sauce is not typically considered spicy. It has a mild garlic and parmesan flavor with a creamy texture.
3. Can I use pre-cooked chicken to save time?
Absolutely! You can use leftover cooked chicken or rotisserie chicken and add it to the dish during the final step to heat it through. This will save you time in the cooking process.
4. Can I make this dish vegetarian?
Yes, you can make a vegetarian version of this dish by omitting the chicken. You can also add sautéed mushrooms, spinach, or other vegetables to enhance the flavor and nutrition.
5. Can I store leftovers?
Yes, you can store leftovers in an airtight container in the refrigerator for up to 3-4 days. Reheat in the microwave or on the stovetop with a splash of water to maintain the pasta's texture.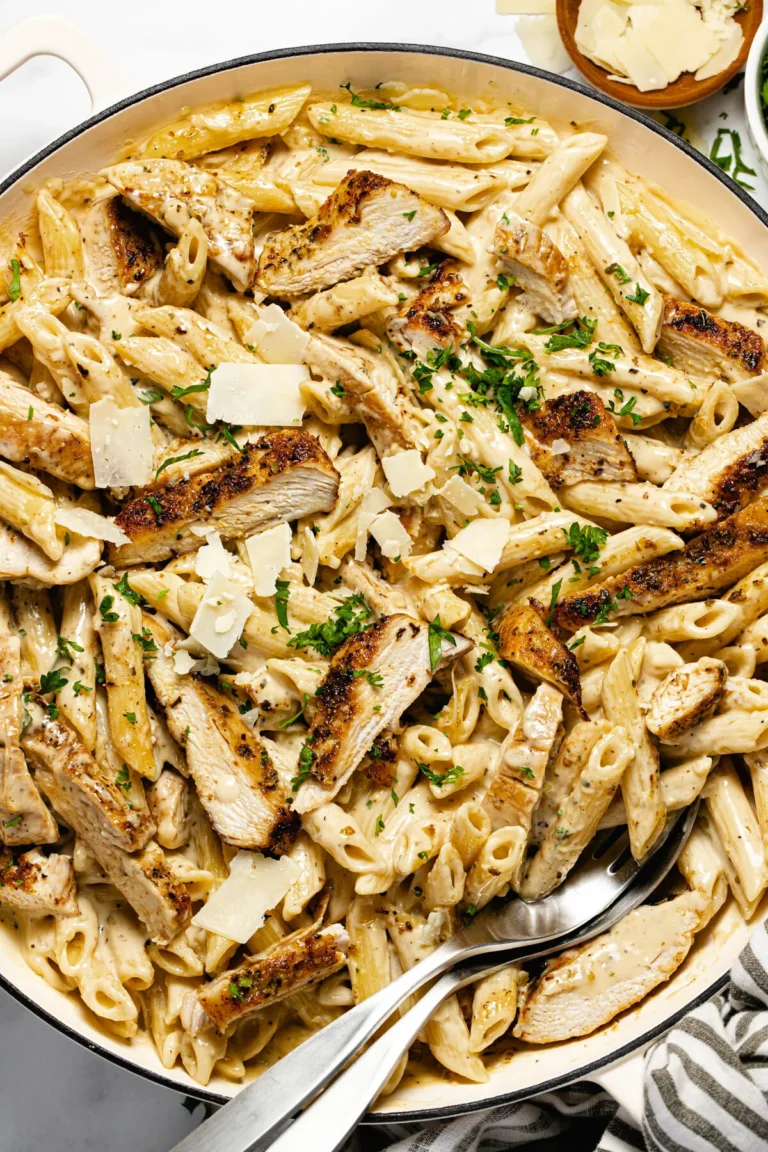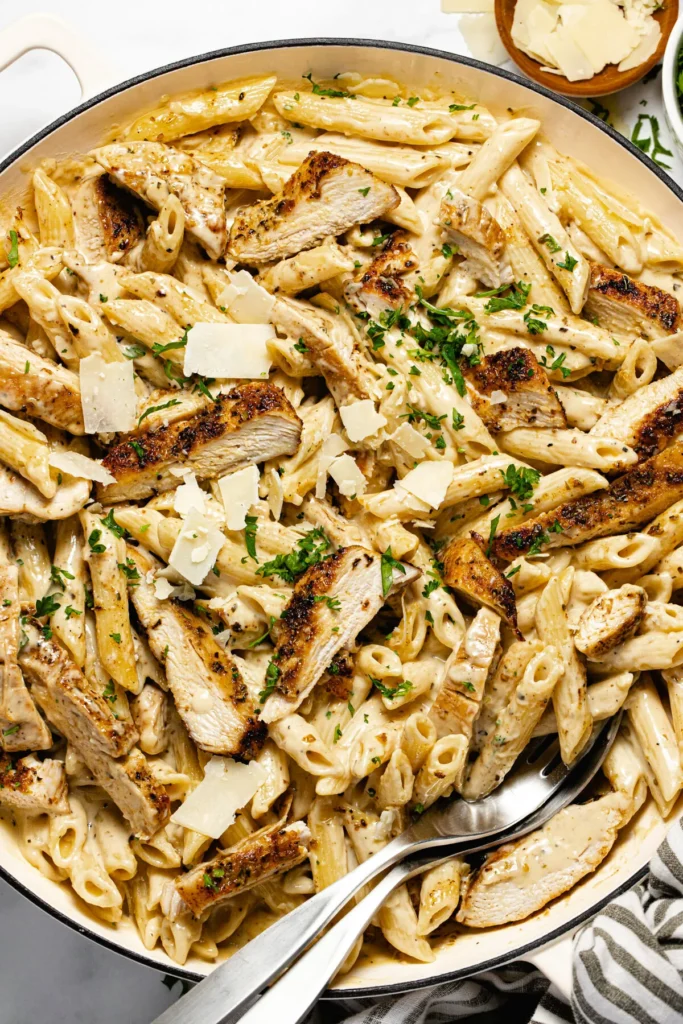 How Does the Sweet Baby Ray's Garlic Parmesan Chicken Pasta Recipe Compare to the Golden Chicken Pasta Recipe?
When comparing the Sweet Baby Ray's Garlic Parmesan Chicken Pasta Recipe to the golden chicken pasta recipe, one can notice some notable differences. While both recipes offer a delicious combination of chicken and pasta, the Sweet Baby Ray's version stands out with its garlic parmesan flavor, adding a rich and tangy twist to the dish. On the other hand, the golden chicken pasta recipe may highlight different flavor profiles, offering a distinct taste. The choice between the two would depend on one's preference for either a garlic parmesan or a golden flavor experience.
Conclusion:
In conclusion, Garlic Parmesan Chicken Pasta in your crockpot is a delightful and easy-to-make dish that's sure to become a staple in your recipe collection. With the convenience of the slow cooker and the irresistible flavors of garlic and Parmesan cheese, it's a winner every time. So, gather your ingredients, set up your crockpot, and get ready to enjoy a delicious, homemade meal that will have everyone asking for seconds. Don't forget to share this recipe with your friends and family – they'll love it just as much as you do!