Chicken Pot Pie Stromboli Recipe
Are you craving a mouthwatering dish that combines the comforting flavors of chicken pot pie with the irresistible flakiness of stromboli? Look no further!
This Chicken Pot Pie Stromboli recipe will have you dancing with delight. Imagine tender chunks of chicken, mixed with savory vegetables and wrapped in a golden, buttery crust. It's the perfect fusion of two beloved classics, guaranteed to satisfy your taste buds and set them free.
Get ready to indulge in a culinary adventure unlike any other!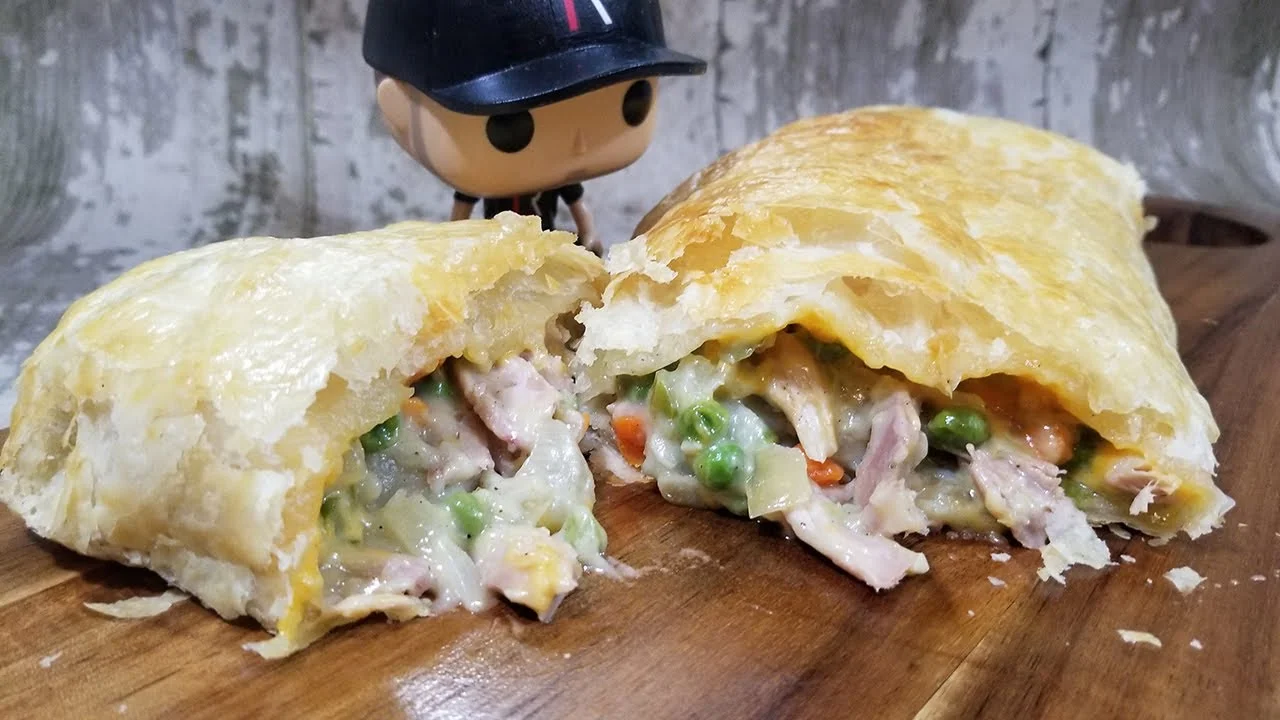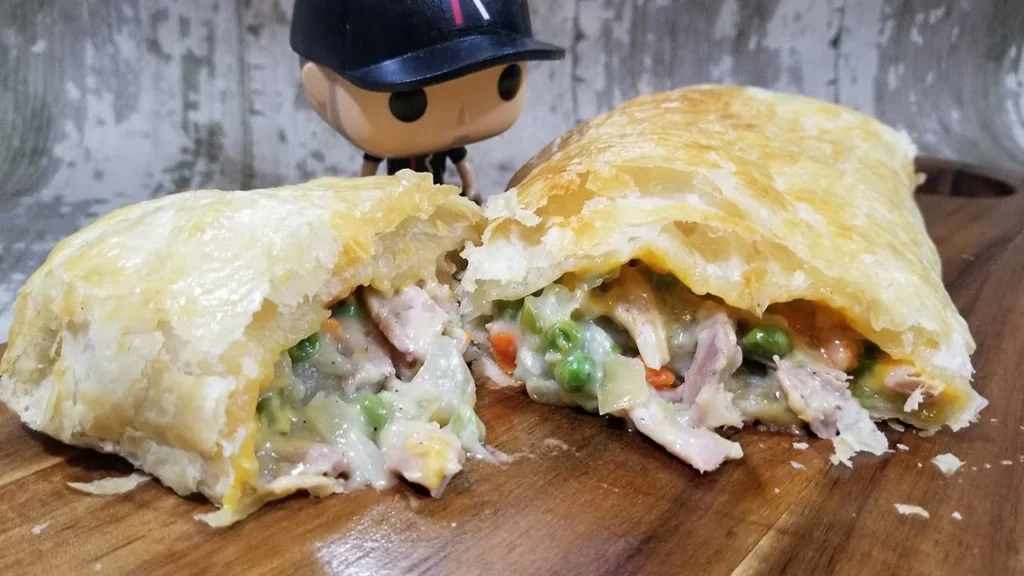 Key Takeaways
Chicken Pot Pie Stromboli is a versatile dish that allows for endless variations of flavors and ingredients.
The filling can be customized with different types of meat like turkey or beef, and various vegetables like mushrooms, spinach, or bell peppers.
The flaky crust of the Stromboli can be achieved by using cold ingredients, avoiding overworking the dough, and brushing with an egg wash before baking.
Chicken Pot Pie Stromboli can be served with creamy mashed potatoes and a fresh green salad for a complete and delicious meal.
Chicken Pot Pie Stromboli Recipe
Course: main course
Cuisine: American
Difficulty: intermediate
If you're a fan of both chicken pot pie and stromboli, you're in for a treat! This Chicken Pot Pie Stromboli combines the comforting flavors of a classic pot pie filling with the delightful, flaky crust of stromboli. It's a savory twist on two beloved dishes that's sure to please your taste buds.
Ingredients
For the Filling:

2 cups cooked chicken, diced

1 cup frozen mixed vegetables (carrots, peas, corn)

1 cup diced potatoes, cooked

1/2 cup diced onion

1/2 cup diced celery

1/4 cup butter

1/4 cup all-purpose flour

1/2 cups chicken broth

1/2 cup milk

1 teaspoon salt

1/2 teaspoon black pepper

1/2 teaspoon dried thyme

For the Stromboli:

1 pound pizza dough

1 cup shredded cheddar cheese

1 egg, beaten (for egg wash)

1 tablespoon fresh parsley, chopped (optional, for garnish)
Directions
Preheat your oven to 375°F (190°C).
In a large skillet, melt the butter over medium heat. Add diced onions and celery. Sauté until they become tender and translucent.
Sprinkle flour over the sautéed vegetables and stir continuously for about 2 minutes to create a roux.
Gradually whisk in the chicken broth and milk until the mixture thickens. Stir in the salt, black pepper, and dried thyme.
Add the cooked chicken, diced potatoes, and frozen mixed vegetables to the skillet. Stir to combine all the filling ingredients. Remove from heat and set aside.
Roll out the pizza dough on a floured surface to form a rectangle, about 12x16 inches.
Spoon the chicken pot pie filling onto one half of the rolled-out pizza dough, leaving a border around the edges.
Sprinkle shredded cheddar cheese evenly over the filling.
Fold the other half of the pizza dough over the filling, covering it completely. Press the edges to seal.
Transfer the stromboli to a baking sheet lined with parchment paper. Brush the top with the beaten egg to give it a golden-brown finish.
Bake in the preheated oven for 25-30 minutes or until the stromboli is golden brown and cooked through.
Once done, remove from the oven and let it cool slightly. Garnish with chopped parsley if desired.
Ingredients for Chicken Pot Pie Stromboli
To make Chicken Pot Pie Stromboli, you'll need the following ingredients. Get ready to embark on a culinary adventure that combines the comforting flavors of chicken pot pie with the convenience and deliciousness of stromboli. This unique twist on a classic dish will surely delight your taste buds and leave you craving for more.
First, gather your favorite chicken pot pie variations. Whether you prefer traditional vegetables like carrots, peas, and potatoes, or want to experiment with different ingredients like mushrooms or corn, the choice is yours.
Next, don't forget the star of the show – the pie crust. Use it in creative ways to encase the delectable filling, giving your stromboli that perfect flaky texture. Don't be afraid to think outside the box and add your own personal touch to this mouthwatering creation.
With these ingredients in hand, you're well on your way to a culinary masterpiece.
Preparing the Chicken Filling
Now chop the cooked chicken and combine it with the vegetables and seasonings. The chicken filling is the heart of your Chicken Pot Pie Stromboli, and there are endless variations you can explore. Let your creativity soar as you experiment with different flavors and ingredients.
Here are three ideas to inspire your culinary freedom:
Spicy Southwest: Add diced jalapeños, black beans, and corn to the chicken and vegetables. Season with cumin, chili powder, and a dash of hot sauce for a fiery kick.

Mediterranean Delight: Mix in olives, sundried tomatoes, and crumbled feta cheese. Sprinkle with oregano, basil, and a drizzle of olive oil to transport your taste buds to the shores of the Mediterranean.

Veggie Extravaganza: For an alternative vegetarian filling, replace the chicken with a medley of roasted vegetables like bell peppers, zucchini, and eggplant. Season with garlic, thyme, and a squeeze of lemon for a burst of freshness.
Unleash your culinary imagination and create a chicken filling that excites your taste buds or explore the vegetarian options for a delightful twist. The choice is yours, and the possibilities are endless.
Making the Flaky Stromboli Crust
Combine the flour, butter, and salt, then knead the mixture until it becomes a smooth and pliable dough. This is the first step in perfecting the dough for your flaky stromboli crust. Once the dough is formed, let it rest in the refrigerator while you prepare the chicken filling.
To achieve a golden crust that will make your stromboli irresistible, here are some tips to keep in mind:
Tips for Achieving a Golden Crust
Use cold ingredients
Chilled butter and ice-cold water will help create a flakier crust
Don't overwork the dough
Overworking the dough can result in a tough crust
Brush with an egg wash
A beaten egg mixed with a little water will give the crust a beautiful golden color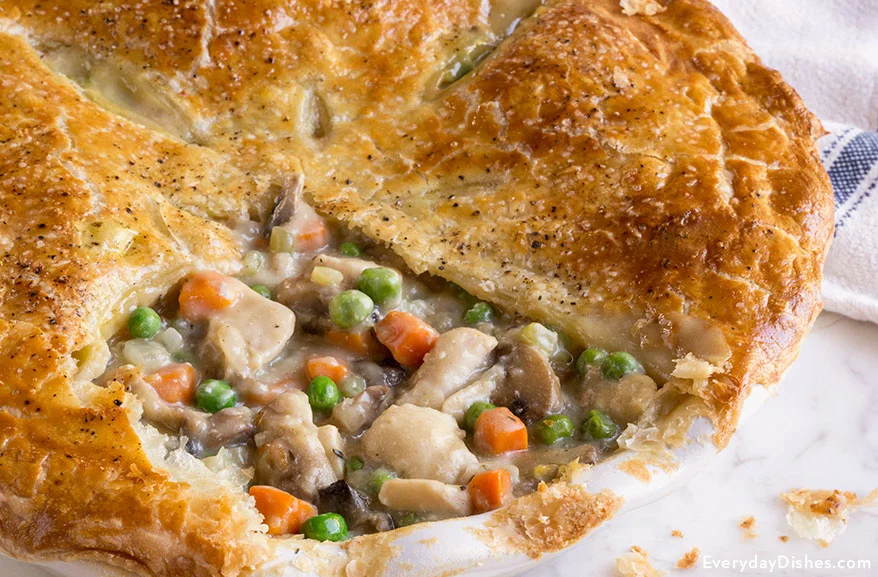 Assembling and Baking the Chicken Pot Pie Stromboli
Spread the chicken filling evenly onto the rolled-out dough, then roll it up tightly and brush with melted butter before placing it in the oven to bake. Achieving a golden brown crust on your chicken pot pie stromboli is essential for a satisfying bite. Here are some tips to help you achieve that perfect crust:
Brush the rolled-up stromboli with an egg wash before baking. This will give it a shiny and crispy exterior.
Bake the stromboli at a high temperature, around 400°F (200°C). This will help the crust to brown evenly and become crispy.
Place the stromboli on a preheated baking stone or pizza stone. The hot surface will help to create a crisp crust on the bottom.
Now that you know the tips for a golden brown crust, let's explore some creative variations of fillings for your chicken pot pie stromboli. But first, let's dive into the next section on serving and enjoying this delicious dish.
Serving and Enjoying the Delicious Dish
To fully enjoy the deliciousness of this dish, you can serve the chicken pot pie stromboli with a side of creamy mashed potatoes and a fresh green salad.
The creamy mashed potatoes perfectly complement the savory flavors of the stromboli, providing a smooth and creamy contrast.
The fresh green salad adds a refreshing and crisp element to the meal, balancing out the richness of the dish.
For serving suggestions, you can also pair the stromboli with a warm bowl of tomato soup or a tangy coleslaw.
If you're looking to switch things up, you can try different variations and substitutions. Instead of chicken, you can use turkey or even beef for the filling.
You can also add different vegetables like mushrooms, spinach, or bell peppers to customize the flavors to your liking.
The possibilities are endless, so get creative and enjoy this delicious chicken pot pie stromboli however you like!
Nutritional Facts:-
Calories: 580 kcal
Carbohydrates: 55g
Protein: 32g
Fat: 26g
Saturated Fat: 12g
Cholesterol: 130mg
Sodium: 1304mg
Potassium: 630mg
Fiber: 5g
Sugar: 4g
Vitamin A: 62% DV
Vitamin C: 21% DV
Calcium: 25% DV
Iron: 25% DV
Frequently Asked Questions
Can I Use Store-Bought Pie Crust for the Flaky Stromboli Crust?
Yes, you can totally use a store-bought pie crust for the flaky stromboli crust! It's a convenient and time-saving option that still delivers that deliciously golden and flaky texture you crave.
Can I Substitute the Chicken With Another Type of Protein, Such as Turkey or Beef?
Yes, you can definitely substitute the chicken with another protein like turkey or beef in the recipe. It will give you different flavor variations and add a delicious twist to your Stromboli. Enjoy experimenting with different proteins!
Can I Make the Chicken Filling Ahead of Time and Refrigerate It?
Yes, you can definitely make the chicken filling in advance and store it in the refrigerator. This allows you to save time and have the filling ready whenever you're ready to make the Chicken Pot Pie Stromboli.
Can I Freeze the Chicken Pot Pie Stromboli for Later Use?
Sure, you can freeze the chicken pot pie Stromboli for later. To do so, wrap it tightly in plastic wrap and aluminum foil, ensuring no air can get in. When ready to enjoy, thaw in the fridge overnight and reheat in the oven for a crispy, delicious meal.
Can I Add Additional Vegetables to the Chicken Filling, Such as Carrots or Peas?
Adding additional vegetables to the chicken filling, such as carrots or peas, is a fantastic idea! It not only enhances the flavor and nutrition, but also gives the stromboli the classic taste of chicken pot pie. So go ahead and get creative with those veggies!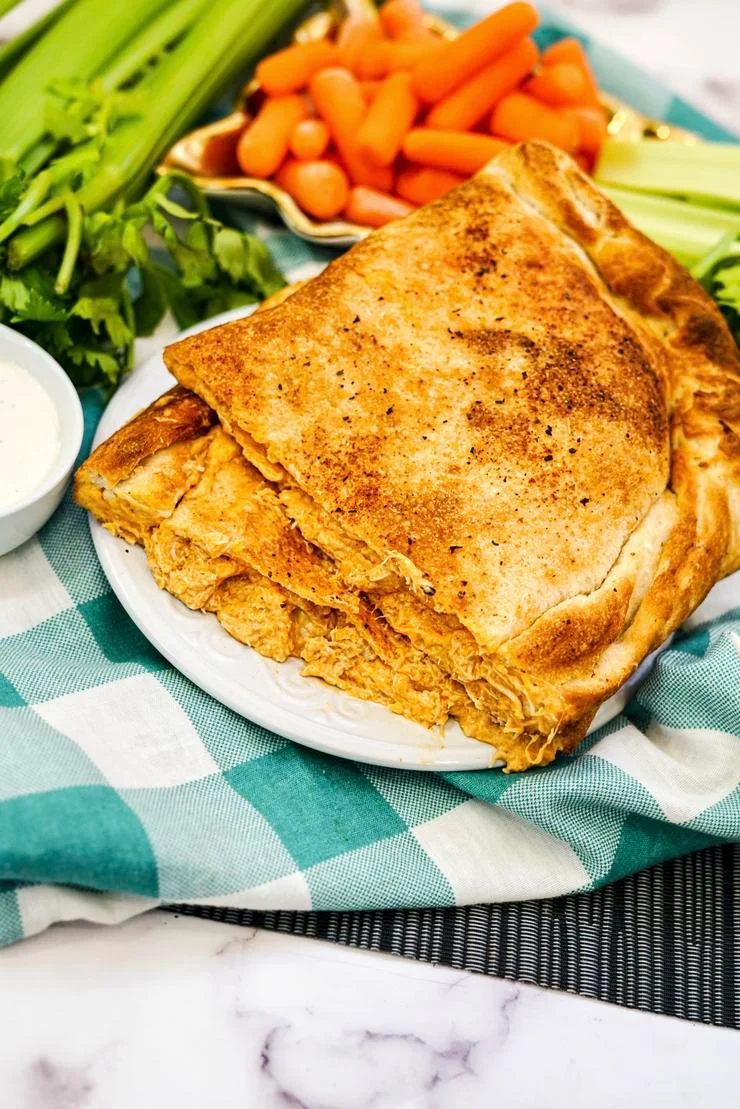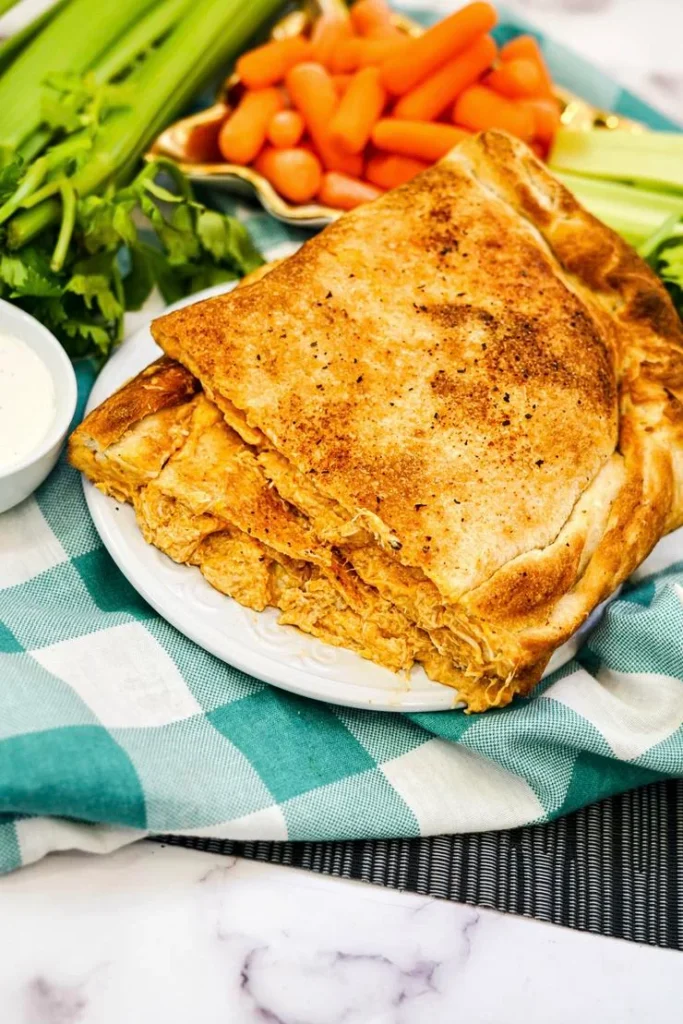 Can the Caprese Chicken Sausage Recipes be Used as a Filling for Chicken Pot Pie Stromboli?
Yes, caprese chicken sausage recipes can be a delicious filling for chicken pot pie stromboli. With their blend of savory chicken, mozzarella cheese, and flavorful herbs, these recipes add a unique twist to the traditional dish. The combination of the sausage's flavors and the flaky crust of the stromboli creates a mouthwatering culinary experience.
Conclusion
In conclusion, this chicken pot pie stromboli recipe is an absolute flavor explosion in your mouth! The flaky crust, filled with creamy chicken filling, is like a culinary symphony of deliciousness.
With just the right balance of savory and indulgence, this dish is guaranteed to make your taste buds dance with joy.
So don't wait any longer, try this hyperbolically amazing recipe and prepare to be blown away!