Fresh Market Chicken Salad Recipe
Are you looking for a mouthwatering chicken salad recipe that combines the savory goodness of roasted chicken with the crunch of fresh vegetables and the sweetness of grapes? If so, you're in for a treat!
In this article, we're diving deep into the world of chicken salad, focusing on a delectable fresh market chicken salad recipe that will leave your taste buds dancing. Whether you're a salad enthusiast or someone looking to add a delightful dish to your culinary repertoire, this article is worth your attention.
What Makes Chicken Salad So Irresistible?
Chicken salad has long been a classic favorite among salad enthusiasts. It's a delightful combination of tender chicken, crunchy vegetables, and a creamy dressing that brings everything together. The key to a perfect chicken salad lies in the harmony of flavors and textures – the juicy chicken, the crispness of vegetables, and the creamy dressing. Our fresh market chicken salad takes this classic dish up a notch with the addition of succulent rotisserie chicken and the natural sweetness of grapes.
The Best Classic Chicken Salad: A Nostalgic Delight
Starting with the basics, let's talk about the best classic chicken salad. This version embodies the traditional essence of chicken salad, where diced roasted chicken meets the earthy crunch of celery and the nutty goodness of pecans. The creamy mayo-based dressing binds these ingredients together, while a hint of lemon juice adds a tangy twist. To give it a sweet surprise, a handful of juicy grapes are tossed in, creating a burst of flavor in every bite.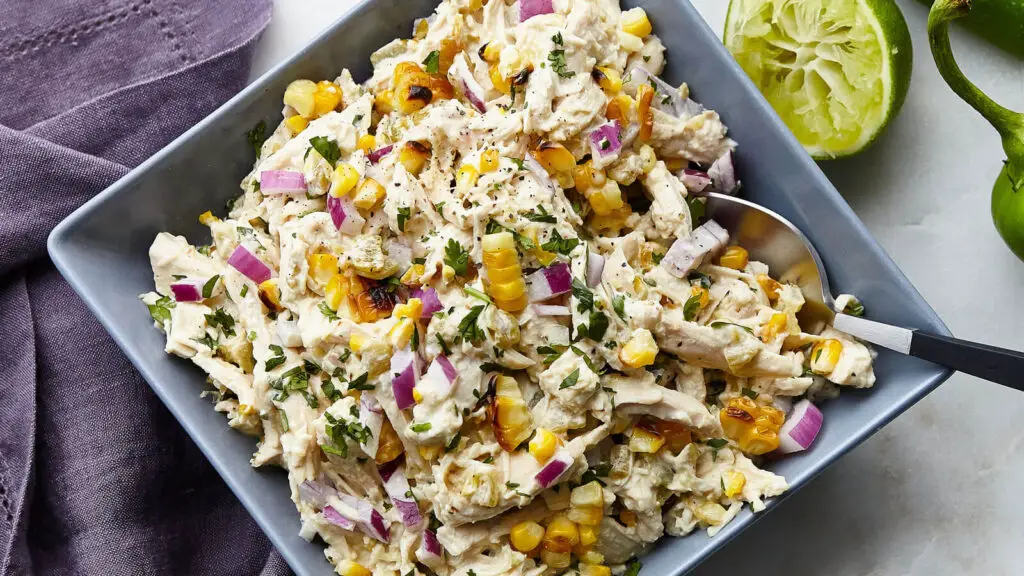 Elevating Flavor with a Twist: Chicken Salad Variations
If you're someone who loves to experiment in the kitchen, chicken salad variations will be your playground. Imagine the medley of flavors when you introduce grilled chicken, avocado slices, and even diced tomatoes to your chicken salad. These variations not only add depth to the flavor profile but also bring a spectrum of colors to your plate. You can also create a chicken salad sandwich by placing your chicken salad between two slices of toasted bread or inside a buttery croissant – a perfect on-the-go option.
The Grape Factor: Chicken Salad Recipe with Grapes
Grapes are the unsung heroes of a chicken salad. Their natural sweetness complements the savory components and adds a juicy burst that's both refreshing and satisfying. For our fresh market chicken salad, we take advantage of the synergy between grapes and shredded rotisserie chicken. The result is a harmonious blend of flavors that's perfect for a light lunch or a hearty dinner. The grapes also add a visual appeal with their vibrant hues, making the dish look as good as it tastes.
Unveiling the Copycat Recipe: Recreating the Fresh Market Experience
Have you ever tasted a dish at a restaurant or a market and wished you could replicate it at home? Our fresh market chicken salad recipe is designed to do just that. By combining carefully selected ingredients and following a few simple steps, you can recreate the magic of a fresh market chicken salad in your own kitchen. The best part? You can customize the ingredients to suit your preferences, making it a personal masterpiece every time.
Fresh Market Chicken Salad Recipe
Ingredients
2 cups cooked chicken breast, diced


1 cup grapes, halved


1/2 cup celery, finely chopped


1/4 cup red onion, finely chopped


1/2 cup chopped pecans or walnuts


1/3 cup mayonnaise


1/4 cup Greek yogurt


1 tablespoon Dijon mustard


1 tablespoon lemon juice


Salt and pepper to taste


Lettuce leaves, for serving


Instructions


Directions
In a large bowl, combine the diced chicken, halved grapes, chopped celery, chopped red onion, and chopped nuts.

In a separate bowl, whisk together the mayonnaise, Greek yogurt, Dijon mustard, lemon juice, salt, and pepper until well combined.

Pour the dressing over the chicken mixture and toss gently until everything is evenly coated.

Refrigerate the salad for at least 30 minutes to allow the flavors to meld.

Serve the chicken salad on a bed of lettuce leaves.

How to Prepare:
Cook the chicken breast by grilling, baking, or boiling. Allow it to cool before dicing.
Wash and halve the grapes.
Finely chop the celery and red onion.
If using whole nuts, chop them into smaller pieces.
Prepare the dressing by whisking together mayonnaise, Greek yogurt, Dijon mustard, lemon juice, salt, and pepper.
Combine the chicken, grapes, celery, red onion, and nuts in a bowl.
Pour the dressing over the mixture and toss to coat.
Refrigerate before serving and arrange on lettuce leaves.
Nutritional Content:
Calories: ~350-400 calories per serving
Protein: ~25-30g per serving
Carbohydrates: ~10-15g per serving
Fat: ~20-25g per serving
Fiber: ~3-5g per serving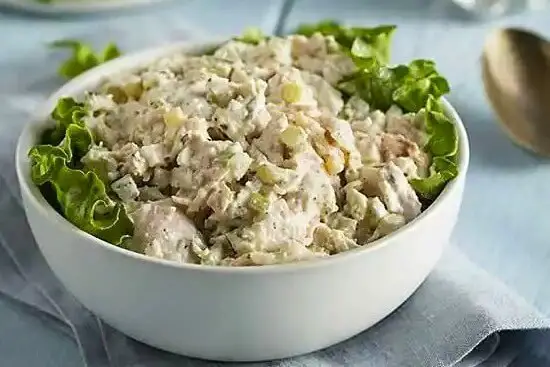 FAQs (Frequently Asked Questions):
1. Can I use canned chicken for this recipe?
It's recommended to use freshly cooked chicken breast for the best flavor and texture, but you can use canned chicken in a pinch.
2. What can I use instead of Greek yogurt?
You can substitute sour cream or plain yogurt for Greek yogurt if needed.
3. Is there a dairy-free version of this recipe?
Yes, you can use a dairy-free mayonnaise and yogurt to make this recipe dairy-free.
4. How long can I store the chicken salad?
The chicken salad can be stored in the refrigerator for up to 3-4 days. Keep it covered to maintain freshness.
5. Can I add other fruits to the salad?
Absolutely! Apples, dried cranberries, or chopped pineapple could be great additions.
What Makes the Tatte Chicken Salad Recipe Stand Out from the Fresh Market Chicken Salad Recipe?
The tatte chicken salad recipe distinguishes itself from the Fresh Market chicken salad recipe with its unique combination of flavors and textures. The Tatte recipe includes ingredients like cranberries, almonds, and fresh herbs, adding a delightful tang and crunch that sets it apart. Try the Tatte chicken salad recipe for a refreshing and delectable twist on a classic dish.
Conclusion:
This Fresh Market-style chicken salad offers a delightful blend of flavors and textures. The combination of tender chicken, juicy grapes, crunchy celery, and the creaminess of the dressing creates a satisfying meal. Feel free to customize the recipe with your favorite ingredients and enjoy a refreshing and nutritious dish.