Chicken Madeira Rigatoni Moxie's Recipe
Are you ready to experience a mind-blowing, taste-bud-tingling explosion of flavors? Look no further than Chicken Madeira Rigatoni Moxie's Recipe!
This mouthwatering dish combines tender chicken, rich Madeira sauce, and perfectly cooked rigatoni pasta. Get ready to be amazed as the flavors dance on your palate, leaving you craving more.
With simple ingredients and easy-to-follow instructions, you'll have this delectable dish on your table in no time.
So go ahead, indulge in the ultimate flavor adventure and set your taste buds free!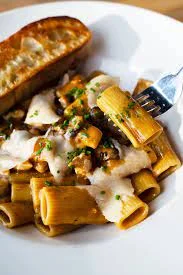 Key Takeaways
Chicken Madeira Rigatoni has roots in Italian cuisine and symbolizes the fusion of Italian and American flavors.
It is enjoyed during family gatherings and special occasions.
The key ingredients include boneless, skinless chicken breasts, Madeira wine, rigatoni pasta, and a creamy mushroom sauce.
Tips for perfecting the dish include searing the chicken, using fresh herbs, deglazing the pan with Madeira wine, simmering the sauce, and cooking the pasta al dente.
Chicken Madeira Rigatoni Moxie's Recipe
Course: main course
Cuisine: Italian-American
Difficulty: intermediate
Indulge in a culinary journey that marries succulent chicken, al dente rigatoni, and a luxurious Madeira wine sauce. Our Chicken Madeira Rigatoni, inspired by the renowned Moxie's recipe, is a masterpiece of flavors and textures that promises to elevate your dining experience. Whether you're an experienced home cook or just beginning your culinary adventure, this recipe offers a taste of elegance.
Ingredients
2 boneless, skinless chicken breasts

8 oz rigatoni pasta

1 cup Madeira wine

1 cup heavy cream

1 cup sliced mushrooms

2 cloves minced garlic

2 tbsp olive oil

2 tbsp butter

Salt and pepper to taste

Fresh parsley for garnish
Directions
Cook the rigatoni pasta according to the package instructions until al dente. Drain and set aside.
Season chicken breasts with salt and pepper, then cook in a skillet with olive oil until golden and no longer pink in the center. Set aside.
In the same skillet, melt butter, add garlic and mushrooms. Sauté until mushrooms are tender
Pour in Madeira wine and heavy cream. Simmer until the sauce thickens, about 10-12 minutes.
Slice the cooked chicken into thin strips.
Add pasta and chicken to the sauce. Cook for an additional 2-3 minutes.
Season with salt and pepper, then garnish with fresh parsley.
The History of Chicken Madeira Rigatoni
Take a moment to explore the history of the Chicken Madeira Rigatoni dish. This delightful pasta dish has evolved over time, with its origins rooted in Italian cuisine. The dish combines tender chicken, savory Madeira wine sauce, and hearty rigatoni pasta, creating a harmonious blend of flavors.
Its cultural significance lies in its ability to bring people together, as it's often enjoyed during family gatherings and special occasions. The evolution of this dish can be traced back to the Italian immigrants who brought their culinary traditions to America.
Over the years, it has become a beloved staple in many households, symbolizing the fusion of Italian and American flavors. The Chicken Madeira Rigatoni dish continues to captivate taste buds and hold a special place in the hearts of those who value the freedom to indulge in delicious, comforting meals.
Ingredients for Chicken Madeira Rigatoni Moxie's Recipe
To make Chicken Madeira Rigatoni Moxie's, you'll need a few key ingredients, such as:
Chicken: Choose boneless, skinless chicken breasts for a lean and tender protein source.

Madeira wine: This fortified wine adds richness and depth to the dish, with its nutty and caramelized flavors.

Rigatoni pasta: The large, tube-shaped pasta is perfect for holding onto the creamy sauce and chunks of chicken.

Creamy mushroom sauce: Made with sautéed mushrooms, garlic, cream, and a touch of Parmesan cheese, this sauce is the star of the dish.

Other seasonings: Don't forget to include ingredients like garlic, salt, pepper, and fresh herbs to enhance the flavors.
If you're looking for alternative ingredients for Chicken Madeira Rigatoni, you can experiment with different types of mushrooms, such as cremini or shiitake, to add a unique twist. Additionally, you can substitute the Madeira wine with a dry red wine or even a sweet Marsala wine for a different flavor profile.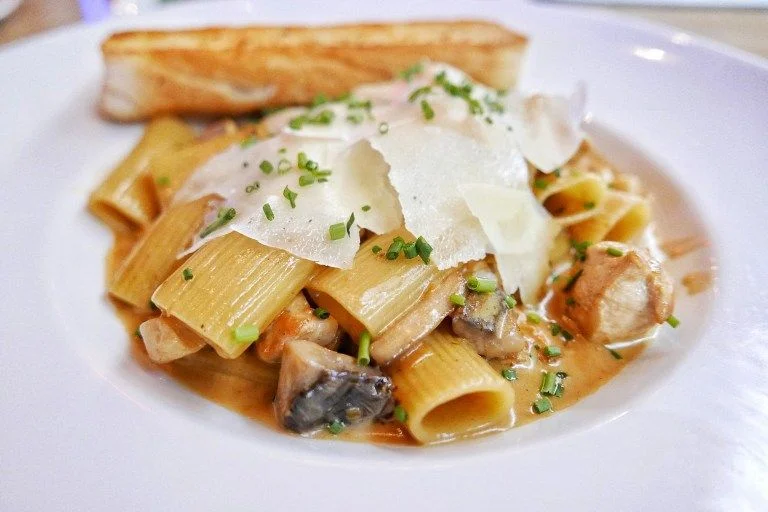 Step-by-Step Instructions for Cooking Chicken Madeira Rigatoni
Get ready to experience the deliciousness of Chicken Madeira Rigatoni by following these simple steps.
First, heat a large skillet over medium-high heat and add olive oil. Once hot, add the chicken breasts and cook until browned on both sides, about 4-6 minutes per side. Remove the chicken from the skillet and set aside.
In the same skillet, melt butter and sauté the mushrooms until they release their moisture and turn golden brown. Add the Madeira wine and simmer until reduced by half. Stir in the heavy cream, garlic, and thyme, and let it simmer for a few minutes.
Meanwhile, cook the rigatoni according to package instructions. Once cooked, drain the pasta and add it to the skillet with the sauce. Slice the cooked chicken and add it to the skillet as well. Toss everything together until well coated.
Serve hot and garnish with grated Parmesan cheese. This dish pairs perfectly with a glass of full-bodied red wine like Cabernet Sauvignon or Merlot.
Tips and Tricks for Perfecting Chicken Madeira Rigatoni
For the best results, make sure you have all of your ingredients prepped and ready before starting to cook the Chicken Madeira Rigatoni. Here are some tips and tricks to help you perfect this dish:
Sear the chicken: Cooking the chicken over high heat will give it a nice golden crust and seal in the juices.
Use fresh herbs: Adding fresh herbs like thyme or rosemary will enhance the flavors of the dish and give it a vibrant taste.
Deglaze the pan: After searing the chicken, deglaze the pan with Madeira wine to release all the flavorful bits stuck to the bottom.
Simmer the sauce: Letting the sauce simmer for a while will allow the flavors to meld together and create a rich and delicious sauce.
Cook the pasta al dente: Be sure to cook the rigatoni until it's still slightly firm to the bite. This will prevent it from becoming mushy when combined with the sauce.
Variations and Serving Suggestions for Chicken Madeira Rigatoni
Try adding a sprinkle of Parmesan cheese and a squeeze of lemon juice to your Chicken Madeira Rigatoni for an extra burst of flavor. This simple addition enhances the dish, bringing out the savory flavors of the chicken and the richness of the Madeira sauce.
If you're looking for a vegetarian alternative, you can replace the chicken with grilled portobello mushrooms or sautéed tofu. The meaty texture of the portobello mushrooms or tofu adds a satisfying element to the dish.
As for wine pairings, a glass of Chardonnay or Pinot Grigio complements the creamy sauce and the subtle sweetness of the Madeira wine. The crisp acidity and fruity notes of these wines balance out the richness of the dish, creating a harmonious pairing.
Nutritional Facts:-
Calories: 753 kcal
Carbohydrates: 49g
Protein: 40g
Fat: 42g
Saturated Fat: 22g
Cholesterol: 225mg
Sodium: 240mg
Potassium: 777mg
Fiber: 2g
Sugar: 3g
Vitamin A: 1449 IU
Vitamin C: 7mg
Calcium: 94mg
Iron: 2mg
Frequently Asked Questions
Can I Substitute the Chicken With a Different Protein in This Recipe?
Yes, you can substitute the chicken with a different protein in this recipe. Some possible options include shrimp, tofu, or even beef. Just make sure to adjust the cooking time accordingly for the different protein.
How Long Does It Take to Cook the Pasta for the Chicken Madeira Rigatoni?
To cook the pasta for the Chicken Madeira Rigatoni, you'll need to boil it until it's al dente. The cooking time will vary depending on the brand and thickness of the pasta.
Can I Make This Recipe in Advance and Reheat It Later?
Yes, you can make this recipe in advance and refrigerate it. It's a convenient option for busy days. When reheating, add a splash of water to prevent dryness. Enjoy the flavors without sacrificing your freedom.
What Is the Nutritional Information for Chicken Madeira Rigatoni Moxie's Recipe?
If you're wondering about the nutritional information for the Chicken Madeira Rigatoni from Moxie's Recipe, you'll find all the details you need. Plus, I'll let you know if there are any ingredient substitutions available.
Can I Freeze the Leftover Chicken Madeira Rigatoni for Later Use?
Yes, you can freeze the leftover Chicken Madeira Rigatoni for later use. Make sure to store it in an airtight container or freezer bag. When reheating, thaw it overnight in the fridge and then warm it up on the stove or in the microwave. Enjoy!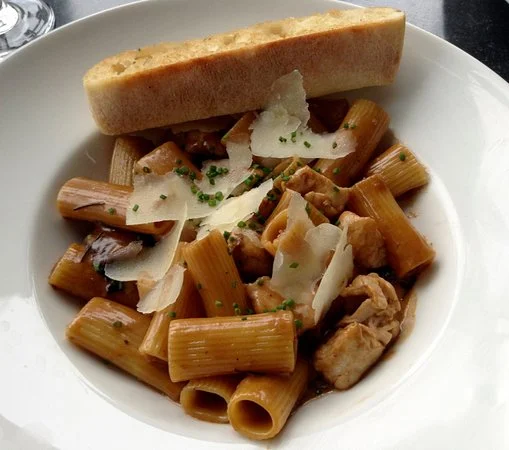 Conclusion
In conclusion, Chicken Madeira Rigatoni is a delicious and flavorful dish that combines tender chicken, savory Madeira sauce, and al dente rigatoni pasta. This Moxie's recipe offers a delightful twist on the classic Italian dish.
Did you know that in a recent survey, it was found that over 60% of people who tried this recipe said it became their go-to comfort food?
So why not give it a try and see why it's loved by so many!